The Bermuda Insurance Development Council [IDC] has recognized insurance industry volunteers who became island "ambassadors" at the Bermuda exhibit during the week of the Risk & Insurance Management Society, Inc. [RIMS] Conference in Philadelphia.
Out of as many as 100 people at RIMS from Bermuda companies, there were some 30 booth volunteers assisting delegates who visited the exhibit booth during the April event. The RIMS meeting annually attracts some 10,000 delegates, mostly from the United States, but also from many other countries.
The IDC has now highlighted two of the local booth volunteers in particular, for an outstanding contribution to the Bermuda effort.
During a brief ceremony, IDC Chairman Allison Towlson presented special awards to Natalie King of captive management company, Independent Management Ltd., and Stuart Roberts of the island's financial services regulator, The Bermuda Monetary Authority.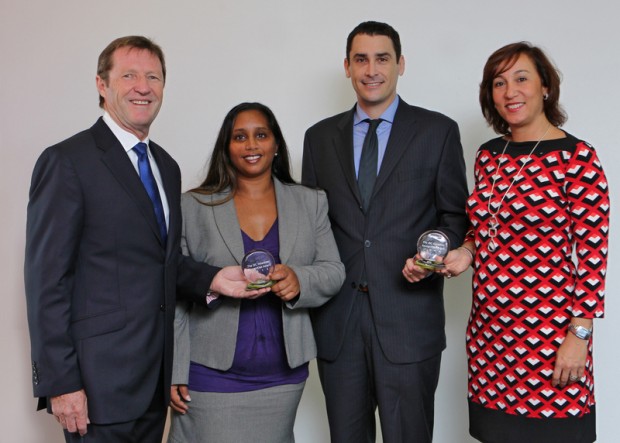 Ms Towlson said, "I want to congratulate you for a job well done. You played a vital role this year in our continuing efforts to highlight Bermuda as a key provider of insurance and reinsurance products to the world's leading companies.
"Your commitment to our mission of continuing the growth of the Bermuda market was evident with your enthusiasm to assist the variety of visitors attending the Bermuda exhibit."
Chairman of the IDC's sub-committee directly responsible for the RIMS effort, Roger Gillett, said, "This award is in its second year and already, the selection committee was faced with a dilemma over which of the two would receive the award. In the end, we recognised them both."
"We are thrilled that so many executives directly and indirectly in the industry, who find themselves at the RIMS event on behalf of their companies, generously volunteer their time in support of the over-all Bermuda effort. It is commendable on their part and on the part of their firms, that they see the larger picture."
In accepting the award, Mr. Roberts noted: "There is no doubt that the Bermuda market is special and the island makes an important contribution to the corporate insurance and reinsurance landscape. There were a significant number of enquiries, demonstrating interest not just from those seeking to learn about captives, but also from more experienced buyers."
Ms King stated: "I was very pleased to represent Bermuda at the RIMS conference. I have worked as a captive manager for many years and was excited that so many people came by the booth to ask questions about the Bermuda market, and captives, in particular."
Read More About