The Bermuda Amateur Swimming Associations Winter Age Group Championships took place this past weekend, with over 60 swimmers competing over the 3 day meet.
Sharks Head Coach and Co National Coach Ben Smith said: "The winter age group was a major test in the season plan for the Sharks swimmers and we are very pleased with where we stand at this point. We would like to congratulate the swimmers that were able to win age group champions as this was a great accomplishment against strong competition.
"The hard work and focus that we have seen from most of our swimmers since September paid off with the results that we had at the meet. Almost all of our competitors had multiple personal best times and they were able to maintain their focus and energy through the 3 days of competition. I would like to highlight some of the swims that stood out from the Sharks."
"Sophie Froud had an outstanding meet hitting 4 out of 5 personal best times and coming excruciatingly close to hitting her second Carifta qualifying time in several of her events. Philip Hagen swam personal best times in all of his events with two swims at the AA level. He was also part of a couple of very exciting races with his Sharks team mates."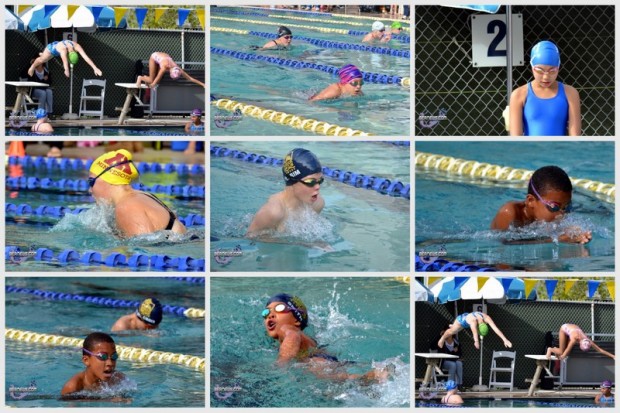 "Vaughn Rowse swam an amazing 1500 meters on the first night of the meets taking 40 seconds off his personal best and finishing with an A time in the 17-18 age group. He also swam a very strong 400 free where he finished with an AA time after dropping 4 seconds.
"Jessie Thomas has been on fire at practice for the last few months and she carried that momentum into the meet. She PB's in all her events and only just missed her personal best in the 50 fly time trial. The work she has done on her butterfly proved to really show off her ability. I look forward to her continued progress.
"Jesse Washington had personal best swims in all 6 of his swim for the meet. As he begins to show more effort in practice I hope to have further progress for him as he prepares for international meets.
Mr Smith concluded: "All in all a very successful meet for our Sharks and for the swimmers of Bermuda. We look forward to the continued improvement into 2013."
Sharks Coach Robert DeSilva was very impressed with the amount of effort put in by his young Sharks, saying, "Since September they have worked extremely hard, both at land training as well as in the pool, and that effort paid off handsomely over the weekend."
"Young Jessica Bruton was the 8 & Under Champion and also set 2 new age group records. Skyler Powell had 5 big PB's on her way to becoming the 9 – 10 age group champion with Holly Bruton, who had some great swims, a close second after a hard fought battle in a very competitive division.
"Nine year old Keagan Woolley had a couple of strong swims which produced A times and propelled him to second place in the overall age group standings.
"The following young ladies did not quite crack the top 3 overall, but they had some outstanding swims; Jessyka Haak, Isabelle Dutranoit, Brynn Telenko and Charlotte Faries. Jalen Currin rounded out the group by swimming to a few big PB's.
He further commented, "Well done everyone, you made it a great weekend for Sharks and I look forward to seeing what you'll achieve for 2013!
Barry Hanson and Gretchen Dill, coaches for the Dolphin Swim Team, said: "It's always a tough road back after the summer, but, all of the hard work put in by our swimmers since September paid off. Many of our swimmers came through the long weekend with several Personal Bests while others attempted new longer distances and did very well. Congratulations to all of the swimmers who participated in the Winter Age Groups this weekend. Well done!"
They continued, "We would also like to mention a few individual accomplishments from our swimmers over the weekend. Evan Farrow was the 11-12 Age Group Champion and swam a great race in the 1500 Free. Brett Smith was the 9-10 Age Group Champion and set the Bermuda 100 Backstroke record in the 9 to 10 age group.
"Cathal Rynne managed to swim all of his races with an injured shoulder and PB'd his 200 Back by almost 15 seconds! Many of our swimmers participated in the 200 Fly for the first time and posted great times.
A statement from Harbour Swimming Club: "Max McCrimmon was the top swimmer in the boys' 8 and under age group category, pacing his way with three first place finishes in the 100 and 200 freestyle and the 100 individual medleys. Harbour made a clean sweep in this age category, as Finn Moseley and Charlie Thorpe took second and third places; Moseley winning the 100 breaststroke and Thorpe the 100 backstroke. In the girls' 8 and under age group, Connie Betts and Kyle Cash finished in second and third place respectively with some great swims.
"Jack Harvey displayed his improving abilities with a third place finish in the 9 and 10 boys' age group, finishing first in the 100 breaststroke.
"In the 11 and 12 girls' age group, Emma Harvey tied for first place as the age group winner, with three outstanding swims in the 200 free, 200 IM and 200 breast. Ashley Irby was third, with some very consistent swims. Alex Pilgrim took third place in a very competitive 11 and 12 boys' age group, with excellent, first place swims in the 200 individual medley and 200 backstroke.
"The high point competition for Harbour was rounded out by Alex McCallum and Brittan Moseley placing second and third respectively in the boys' 13 and 14 age group; Moseley winning the 200 breaststroke."
View a photo gallery of the swim meet here.
Read More About