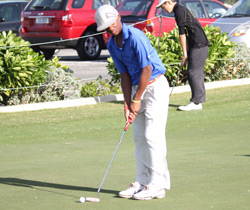 The Bermuda Junior Golf Association's Fecchio Cup got underway at the Port Royal Golf Course on Tuesday [Dec 18].
Sam Wehmeyer leads the Blue Tees 16+ Division after shooting a First Round 10-over par 81, Wehmeyer holds a five stroke lead over Justin Dixon-Watts, while Walker Campbell is in third after shooting a 17-over par 88.
Daniel Hetzel shot a First Round 19-over par and is in fourth, while Cory DeSilva shot a 20-over par 91 to hold the fifth spot and Evan Watkins is in sixth after a First Round 26-over par 97.
Playing off the White Tees in the 13-15 Age Group Division, Alex Mason and Brady Cordeiro both shot opening rounds of 15-over par 86's to lead the Division, while James Robertson is in third after he opened with a 21-over par 92.
Mikus Ming opened with a 22-over par 93 holding the fourth place spot, while Dakota Lamb shot an opening round 25-over par 96, Johnathan Hodgkins is in sixth after his round of 29-over par 100, while Keary Swan opened shooting 32-over par 103 and William Grey is in eighth after an opening round 37-over par 108.
Elizabeth Parsons leads off the Red Tees in the Girls 13-15 Age Group Division after her round of 27-over par 98.
Off the Red Tees in the 12 & Under Age Group Division Benjamin Barnett leads after shooting a 16-over par 87, while Joe Waters is in second after shooting 20-over par 91 and Kenny Leseur shot and opening round 30-over par 101.
The full results are below [PDF here]:
Read More About