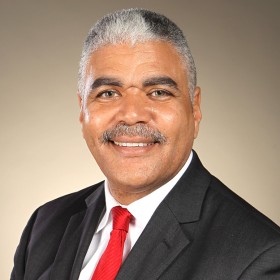 The clear victory by the One Bermuda Alliance in Monday's general election "may signal a change in economic and fiscal policies for the island," a statement from Fitch Ratings said.
In an analysis of the election results released today [Dec. 18], the international financial ratings agency said the new Bermuda government faces a pressing need to address high unemployment, a continuing recession, large fiscal deficits, and mounting public debt levels.
Led by newly sworn-in Premier Craig Cannonier [pictured], the OBA prevailed in the elections with a 52 per cent popular vote majority, and now will control 19 of the 36 seats in the House of Assembly.
The party's win  ousted the Progressive Labor Party from power for the first time in 14 years, "opening the door for a reassessment of Bermuda's economic policies," Fitch said.
"OBA's platform focuses on economic growth and job creation," said Fitch analysts. "The new government will face a significant challenge in paving the way for a resumption of growth after three years in which the economy contracted as a result of both cyclical and structural factors. Bermuda suffers from a lack of economic diversification, weak growth prospects, and limited policy flexibility.
"Key mature sectors, including tourism, financial and reinsurance services face increasing competition from other countries and are exposed to swings in global economic conditions. After contracting by 2.8 per cent in 2011, Fitch expects Bermuda's Gross Domestic Product to shrink again in 2012 and to remain essentially flat in 2013.
"The preservation of jobs in the international business sector, mainly reinsurance, will be key for the Bermudian economy in the coming years. Activity in the sector has continued to fall for four consecutive years — down 8.3 per cent in 2011 — as a result of low investment returns, high catastrophe claims, weak performance in business lines, and competition from other jurisdictions. Headcount is likely to fall again in 2013, though at a slower rate."
Fitch analysts said the "new administration wants to attract foreign investment, both for new hotels and for the development of waterfronts in Hamilton and St. George's. But revival of the tourist sector and new investments in hotels will depend on progress in lowering labour and other infrastructure costs in Bermuda. At the same time, the incoming government has announced initiatives to support local business owners and entrepreneurs."
"OBA's platform includes a tight control on public spending and a reduction in public debt," said the analysts. "The new governing party has identified several sources of potential public spending cuts to reduce public deficits, including a possible government headcount freeze, the elimination of consulting contracts, a 10% pay cut for government ministers, and closer monitoring of all public expenditures. No planned reductions in social services spending have been included in the OBA platform.
"As we noted in June, when Bermuda's long-term Issuer Default Rating was downgraded to 'AA', we will remain focused on the government's commitment to a credible fiscal consolidation plan and steps to restore economic growth in assessing the sovereign's credit profile.
"A failure of the new government to deliver on either of these priorities could lead to further negative rating actions. Alternatively, resumption of economic growth and concrete signs of fiscal consolidation and debt stabilisation would sustain Bermuda's ratings."
Read More About