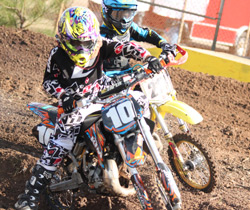 The Bermuda Motocross Racing 2012-13 Season got underway at the Moto Sports Park in Southside this weekend
The day was billed as Bermuda versus three overseas riders, Ryan Nolan and Brenden Carson from Canada and Garrett Sharp from Atlanta got more than they could handle as the Bermuda riders refused to let the visitors have it all their own way.
Sharp won has won a Loretta Lynn Qualifier and was fourth in a Loretta Lynn Regional event won the 85cc Class but he had his work cut out for him holding off Zamir Darrell and Jayden Ming.
Kenny Mathie rode to victory in the B Class finishing behind him was Jonah Smith and then Carson, while Nolan took the C Class honors for the day finishing ahead of Otis Ingham and Craig Ferguson.
Rayal Simmons came away with the top honors on the day in the Pee-Wee Class, with Moses Johnson winning the 50cc Class on the day.
The 65cc Class was won by Kai-Jun Simons and Zendai Ingham-Fubler won the Junior Super-Mini Class. The C Class was won by Jyire Mitchell, while Ingham won the 450cc Class.
Pee-Wee Class
1 Rayal Simmons
50cc Class
1 Moses Johnson
2 Rajae Whitter
3 Zano Tucker
4 Jaden Simmons
5 Zan Williams
6 J'auza James
65cc Class
1 Kai-Jun Simons
2 Michael Burrows Jr.
3 Lazai Easton
4 Keon Glasford
85cc Class
1 Jared Sharp – Overseas Rider
2 Zamir Darrell
3 Jayden Ming
4 Daniel Atherley
Jr. Super-Mini Class
1 Zendai Ingham-Fubler
C Class
1 Jyire Mitchell
2 Rajul Mathie-Shakir
3 Jahdae Trott
4 Tyquan Perinchief
5 Riley Rickets
6 Shaddai Williams
B Class
1 Kenny Mathie
2 Jonah Smith
3 Brandon Carson – Overseas Rider
Over 30's Class
1 Ryan Nolan – Overseas Rider
2 Otis Ingham
3 Craig Ferguson
4 Wentworth Tucker
5 Jason Harrell
6 Letroy Trott
450cc Class
1 Otis Ingham
2 Trent Daniels
3 Wentworth Tucker
4 Letroy Trott
5 Jason Harrell
Read More About