Spanish Town Entertainment announced their party plans for New Years Eve. On December 31st, 2012, Spanish Town will host the annual New Year's Eve celebration on Front Street, with this year's event titled "Unity Explosion: The Ultimate New Year's Eve Party."
Unity Explosion 2013 will begin at 8.00pm with a movie night for families followed by a dance party hosted by Onika Best, who promises to keep the crowd sizzling with her Caribbean-Bermudian vibration.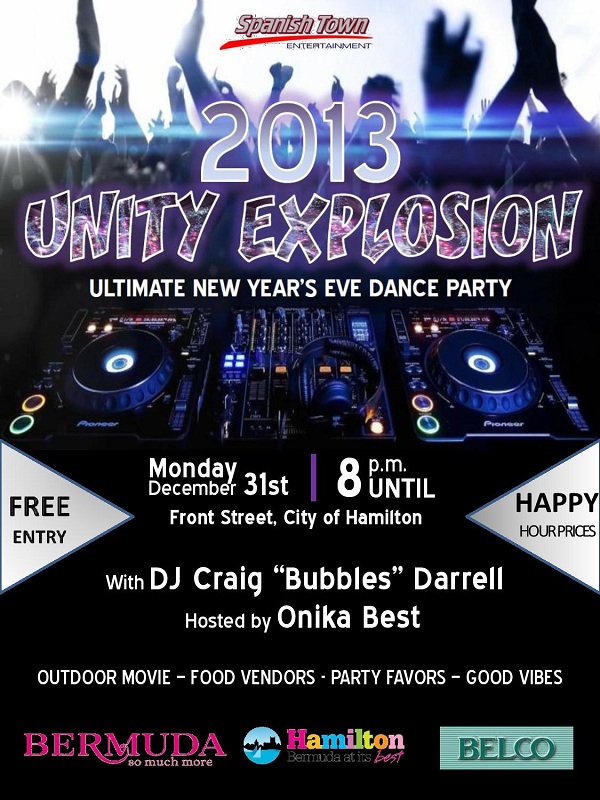 Music at the event will be provided by Video DJ Craig "Bubbles" Darrell; playing the hottest music videos and all of your favorite dance tunes on multiple screens as he prepares everyone for a toast and countdown at midnight.
"Our goal is to create unifying events that help to galvanize our community," says Eugene Dean, manager of Spanish Town. "In the wake of recent events, it is truly a new day in Bermuda; and with this in mind everyone can expect a distinctly different experience from New Years Eve events we have produced in the past."
This event will feature outdoor cinema, dance floors, live entertainment, top 40 hits, food vendors, party favors, a licensed bar and much more.
In launching the event, Onika Best said "With all the trials and tribulations we have been through this year, Unity Explosion 2013 provides the entire community with an opportunity to bring in the New Year at a positive gathering filled with hope, togetherness, peace and love. This New Year represents a New Day, so let's stand strong together as a people, dance, celebrate and promote peace starting at the Front of the Street."
All ages are invited to attend this event sponsored by The Bermuda Department of Tourism, The Corporation of Hamilton and BELCO. Security will be provided by Bermuda Security Agency.
Read More About
Category: All, Entertainment