A new hair and beauty supply store is opening its doors this week, with 'Mirage' set to retail a wide range of beauty products, including some product lines that were not previously available in Bermuda.
Two sisters — Sophia & Nickesha Smith — are the main driving forces behind Mirage, which will be selling hair products, makeup, styling tools, nail polish, skin care items, hair extensions and much more at their Ewing/Court Street location.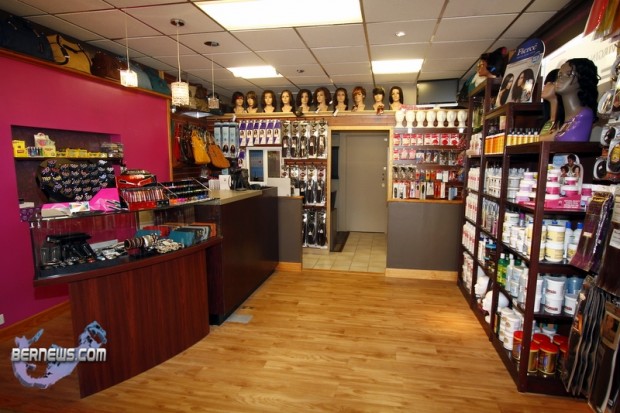 Nickesha Smith said they decided to venture into the sector as while they were attending university abroad in the U.S. they discovered most people did not buy the bulk of their beauty products from their drug stores or supermarkets, but from their neighborhood beauty supply store [BBS]
"My sister and I could remember driving with our girlfriends for miles just to look for a special brand or product," said Ms Smith. "Nothing is like tangible shopping, and when it comes to purchasing beauty supplies and hair… most times it is better done in person.
"You can see it, feel it, buy it, own it with instant satisfaction. However, when we arrived back home we realized that there was no true general BBS in Bermuda. Our desire is to bring the U.S. style beauty retail shopping experience to Bermuda."
"This type of business required intensive research and a load of networking because it is not the easiest sector to enter. I often refer to a "club membership". At the end of the day, it's really up to your vendors if they wish to let you in."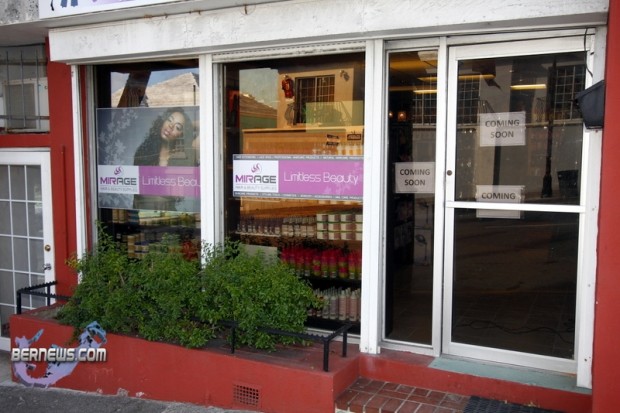 Ms Smith continued: "I would also like to make note that we are working closely with our advisers at BSBDC [Erica Smith & Roxanne Christopher] who are very instrumental in providing us with solid keynote advice which will enable our success as a developing small business."
Asked about the products they will be selling, Ms Smith said: "We are still working our inventory development.. to be honest it will ever be growing.
"The beauty industry does have it's trends, to there will always be a new selection of hair care product, styling tool, wig or extension brands to try out. That's the beauty of the beauty industry, there are endless items out there for your to explore so you can express your individual beauty.
"This is why we chose "Limitless Beauty" to be our business slogan. Currently we stock popular haircare brands you have grown to love for natural hair and relaxed [ie. Aunt Jessie, Gentle Treatment, Cream of Nature, Dark & Lovely, SmoothCare, Organics, Elasta QP, etc.]
"We are also the distributor of haircare brands that you only be able to find locally at our store [i.e: Straight Request, Vonte, Diva by Cindy, Jessiecurl, MyHoneyChild, Roberts Diamond Bond, Orginal Moxie, Silicon Mix, and Miss Key].
"We are also selling some skin care items like Shea butters [refined or organic], authentic black soap and more. Customers can soon expect growth in that department in 2013 as we have discovered some yummy skin care finds," explained Ms Smith.
"We are also the local distributor for the extensions we carry. We will regularly stock the various line produced by these popular US extension brands [ie., ModelModel, Sensual Collection, Isis Collection, Modu Anytime, Urban Beauty and Soultress Wigs].
"We do carry makeup, styling tools [combs, brushes, rollers, curling irons, flat irons, blow dryers, standing dryers, and weaving supplies] and nail care products and nail polish. We currently carry the Slick ad XO nail polishes, we find them to have pretty colors with good coverage… and because of their wallet friendly prices, they're sure to be seen in almost every household here in Bermuda shortly.
Ms Smith continued: "Our customers can expect that our lines will grow as we supply them the hair & beauty supplies they require to suite their needs. For instance this coming January our nail care product lines will expand to accommodate the needs of our local Nail Technicians.
"Also the remainder of our distributor haircare product brands and styling tools will readily available for purchase within the early part of next year… which is not a long wait.
Slideshow of the store & products, click to move to next photo:
"To celebrate our store opening we are offering our customers a 10% off coupon which is available right now on Facebook," Ms Smith said. "Persons interested can visit our website [miragehbs.com] or our Facebook page [Facebook.com/miragebda].
"If you're not into social networking and you don't have an account, all we would need is your email address or cell number for you to qualify for the discount. By signing up online or in store you can get access to exclusive promotions and updates."
Ms Smith said Mirage Beauty Supply is striving to keep their prices as competitive as they can. "We encourage our customers island wide to do the math when deciding to bring items in via courier," said Ms Smith, "Most times, depending what it is that you buy, there's not much savings… if any."
Mirage's soft opening will be held this evening [Dec 11] at 5:30pm at their Ewing/Court Street, Hamilton location, where refreshments will be served, and customers will be offered a special 15% discount. The store will officially open on Wednesday December 12th. For more information visit Mirage's website.
Read More About
Category: All, Beauty/Fashion, Business, News, Photos