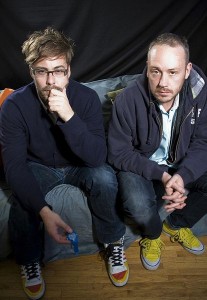 British electronic dance sensations Basement Jaxx hope to strike the right chord with their fans by including a sample of a rousing church organ composition by Bermuda-born Brixton musician and community activist Joe Benjamin on their new track "People Of  Planet Earth."
You can listen to the song here.
Musicians and DJs Simon Ratcliffe and Felix Buxton [pictured] launched Basement Jaxx in Brixton in 1994 and remain closely associated with the south London district.
They have recorded seven studio albums and scored number one dance hits on both sides of the Atlantic.
The duo also provided the soundtrack for the low-budget  science fiction movie "Attack The Block" about an alien invasion of Brixton which became a surprise box office hit in the UK and the US in 2011.
Soul musician Mr. Benjamin has been one of Brixton's favourite sons for decades. He is known throughout the UK for blowing on his trademark Bermuda conch shell at community events in an area which became home to thousands of West Indian immigrants beginning in the 1950s.
"The track we'll be opening our next DJ set with is 'People Of Planet Earth'," the Basement Jaxx musicians told Britain's "Guardian" newspaper earlier this week. "This features a church organ piece composed by Joe Benjamin, a 70-year-old Bermudian now living in Brixton. Who knows, you might hear it on our new album."
Joe Benjamin leads community members with his conch shell to the site of the Black Cultural Archives in Brixton at a 2011 event commemorating the 30th anniversary of clashes between residents and police in that London district in 1981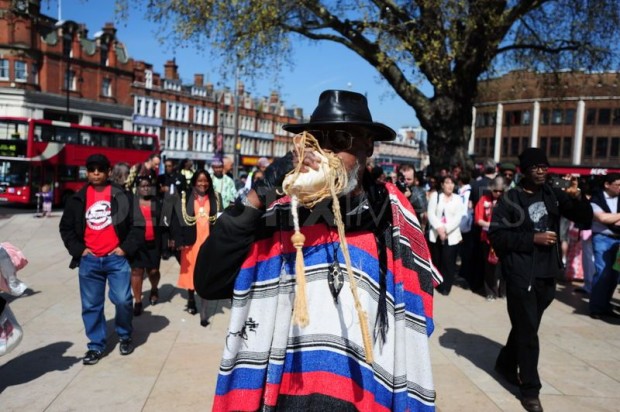 Read More About
Category: All, Entertainment, Music