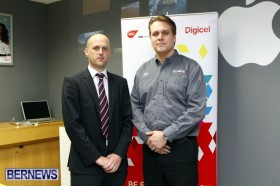 A.F. Smith customers now have the ability to activate Apple products to work on Digicel's 4G network, with both the Tumkins Lane and Reid Street locations now serving as authorised Digicel dealers.
"Digicel Bermuda understands that our customers want 4G speeds for their smartphones," stated Digicel Bermuda CEO, Wayne Caines.
"We are committed to ensuring our customers benefit from our 4G speed and coverage and are delighted to have a reputable company such as A.F. Smith as our newest authorised reseller."
Digicel Sales Director, Shane McDonnell, added "Our customers' needs are ever evolving. We are pleased to add Apple authorised reseller, A.F. Smith, to our list of authorised dealers available on island and are equally pleased to offer the strength of our 4G network to all smartphone users. Moreover, we are delighted to add A.F. Smith's two locations as Digicel Top Up locations."
A.F. Smith CEO  Tim Smith said, "This newly formed relationship affirms our commitment to providing all-inclusive solutions to fit clients' needs. Our brand promise is to offer products and services that help improve people's performance, wherever they work."
Mr Smith continued: "Using the right technology, for example Apple, and a robust network like Digicel's, we believe we can better foster collaboration and improve human performance."
Anyone looking to purchase an iPhone, iPad or laptop from either A.F. Smith location can activate the device with a Digicel prepaid or postpaid voice or data plan at the same time.
The iPhone pricing is below:
iPhone 4S [16GB]
Postpaid Pricing with an Ultimate Unlimited Plan $499
Postpaid with a Smartphone Plan $529
Prepaid $829
iPhone 4S [32GB]
Postpaid Pricing with an Ultimate Unlimited Plan $699
Postpaid with a Smartphone Plan $709
Prepaid $1,009
iPhone 5 [16GB]
Postpaid Pricing with an Ultimate Unlimited Plan $799
Postpaid with a Smartphone Plan $899
Prepaid $1,299
iPhone 5 [32GB]
Postpaid Pricing with an Ultimate Unlimited Plan $999
Postpaid with a Smartphone Plan $1,099
Prepaid $1,499
Read More About
Category: All, Business, technology