Appleby, for the second consecutive year, has been awarded "Caribbean Law Firm of the Year" and "Caribbean Trust Company of the Year" at the prestigious Citywealth International Financial Centre Awards 2013. The awards were accepted by Tim Faries, Bermuda-based partner, at a presentation dinner held at the London Landmark Hotel on Thursday 24 January 2013.
Yogesh Dewan, CEO and Founding Partner of Hassium Asset Management LLP; Tim Faries, Appleby Partner and Local Group Head – Corporate and Commercial, Bermuda; Michael Portillo, Journalist and former Conservative Party politician and Cabinet Minister: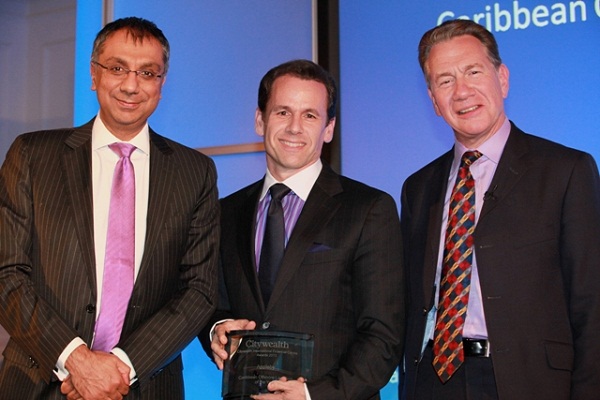 The Citywealth International Financial Centre Awards were established to highlight the excellence of the advisors and managers in the private wealth sector in the major international financial centres. These awards were judged by an international panel of highly respected practitioners from all sectors with experience of working with advisors in all the jurisdictions covered. The winners have been selected for their excellence in innovation, expertise and service.
Commenting on the awards, Carlos de Serpa Pimentel, Appleby's Private Client and Trusts Practice Group Head said: "We are honoured that Citywealth continues to recognise the strength in depth and quality of our work across the Caribbean markets. These awards reinforce our position as a leading provider of private client & trusts services."
Farah Ballands, Appleby's Global Group Head of Fiduciary & Administration Services added: "Winning such a prestigious award for the second consecutive year is testament to the innovation, expertise and commitment of our trust teams worldwide."
Read More About