Bermuda's Emerging Professionals [BEPRO] will be hosting their Annual Membership Drive sponsored by Freisenbruch Meyer Group, HWP and Burrows & Lightbourne, this Friday, January 25th.
This event will be held at the newly renovated Freisenbruch Meyer office on Front Street from 5.30pm – 7.30pm. and complimentary hors d'oeuvre and drinks provided.
A spokesperson said: "BEPRO's aim is to connect a diverse and progressive network of emerging professionals and contribute to their professional and social development. We accomplish this by hosting events organized by BEPRO's Board and our professional development, community and social committees.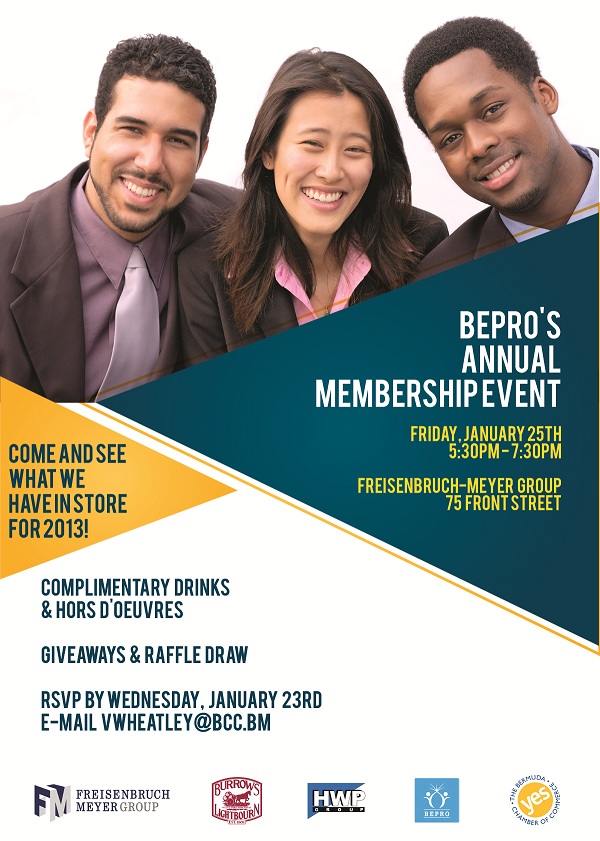 "This week's event offers potential new members the opportunity to find out more about BEPRO, what we accomplished in 2012 and what we have planned for 2013.
"BEPRO's Professional Development committee provides events that allow members to expand their knowledge base through various lunch-n-learns, workshops and seminars. In previous years, the topics have varied from entrepreneurship to estate planning and investing.
"The Community Committee allows for members to partner with charities and organizations to give back to the community through their various initiatives. The most recent event allowed members to assist Big Brothers and Sisters with a Halloween Trick-or-Treating initiative.
"While BEPRO's Social Committee develops events that provide the opportunity for members to meet fellow young professionals in both formal and informal environments. Recently held events included BEPRO's summer volleyball team and glow volleyball, summer cruise, Christmas party, quiz nights and more. Collectively, these events allow members and non-members to broaden their network and build bonds with other young professionals.
"This upcoming Membership Drive event on Friday, January 25th will be a great opportunity for those looking to join a progressive organization which will assist them in their social, professional and civic developments. BEPRO provides members with discounts or other perks at its events. "
Read More About