Chief Inspector Nicholas Pedro of the Bermuda Police Service recently graduated from the FBI National Academy in Quantico, Virginia.  He was one of 260 law enforcement executives and managers who graduated in December 2012, and was selected to represent the international students by giving a speech honouring the fallen.
Commissioner of Police Michael Desilva said: "The 251st session of the National Academy consisted of men and women from across the United States, and included members of law enforcement agencies from 29 international countries including Bermuda.
"Internationally known for its academic excellence the National Academy Program, held at the FBI Academy, offers 11 weeks of advanced investigative, management and fitness training for select officers having proven records as professionals within their agencies.
"On average, these officers have 19 years of law enforcement experience and usually return to their agencies to serve in executive level positions. Training for the program is provided by the FBI Academy instructional staff, Special Agents, and other staff members holding advanced degrees, many of whom are recognised internationally in their fields of expertise."
Chief Inspector Pedro with FBI Director Robert Mueller: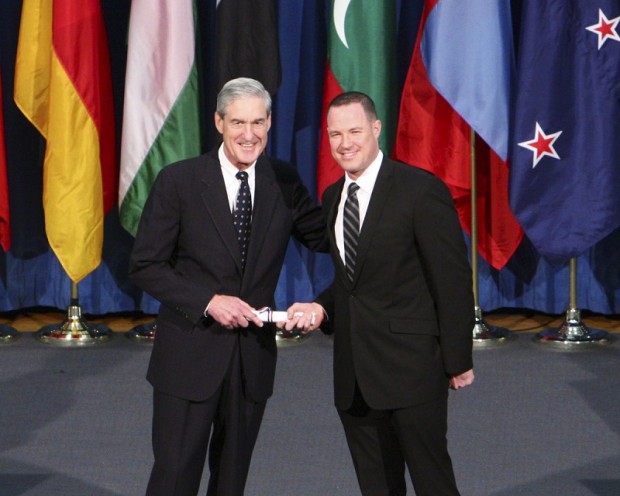 Commissioner Desilva continued: "Since 1972, National Academy students have been able to earn undergraduate and graduate credits from the University of Virginia due to the accreditation by the University of the many courses offered. During the session, Chief Inspector Pedro took graduate and undergraduate courses in psychosocial behaviour, gang violence, conflict resolution, leadership, ethics, decision making and fitness.
"Chief Inspector Pedro was also selected to represent the international students by giving a speech honouring the fallen at the National Law Enforcement Officers Memorial in Washington D.C. The event is organized to remember the nearly 20,000 officers in the United States that have been killed in the line of duty.
"Upon successful completion of the session which included weekly fitness challenges, the candidates are awarded a yellow brick. Chief Inspector Pedro received his yellow brick, and also brought home a blue brick. He successfully completed an additional and optional fitness challenge to swim 34 miles – which signifies the distance between Quantico and Washington D.C.
"FBI Director Robert Mueller was the principal speaker at the ceremony, and handed out diplomas to the students. Chief Inspector Pedro now returns to duty with the Bermuda Police Service as the Officer in Charge of the Special Investigations Department, including the Serious Crime Unit," concluded Commissioner Desilva.
Read More About