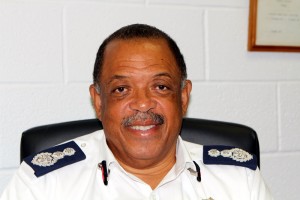 After 43-years of service Chief Fire Officer Vincent Hollinsid will retire from the Bermuda Fire & Rescue Service in April 2013.
Minister of Public Safety Michael Dunkley said, "Mr. Hollinsid has enjoyed a long and distinguished career, demonstrating the highest levels of professionalism and commitment to the core values of the Service.
"The organization is a stronger one today and his leadership has developed the men and women of the Bermuda Fire & Rescue Service into highly skilled and respected professionals in our community. On behalf of the Ministry and the Government I thank him for his outstanding service and wish him well in his retirement."
Mr. Hollinsid is the recipient of the Fire Service Long Service Medal and is the only uniformed officer to have served in all three Services namely the Hamilton Fire Brigade, the Bermuda Fire Service and the Bermuda Fire & Rescue Service [through amalgamation]. He has been the Chief Fire Officer for the past twelve years.
Government said that Mr. Hollinsid will retire as at 30th April 2013 and "the identification of a successor will be initiated to ensure a seamless transition at the head of the Bermuda Fire & Rescue Service."
Read More About