Fifteen members of the clergy joined Premier Craig Cannonier, Minister of Public Safety Michael Dunkley and Junior Minister Senator Jeff Baron at the Cabinet Office today [Feb 6], where they expressed their desire to see the Government address some enforcement issues such as action on tinted helmet visors and consistency in sentencing for offences.
The Ministry of Public Safety organised the first of its community engagement meetings and convened members of the clergy firstly from the Hamilton and surrounding area of the Island.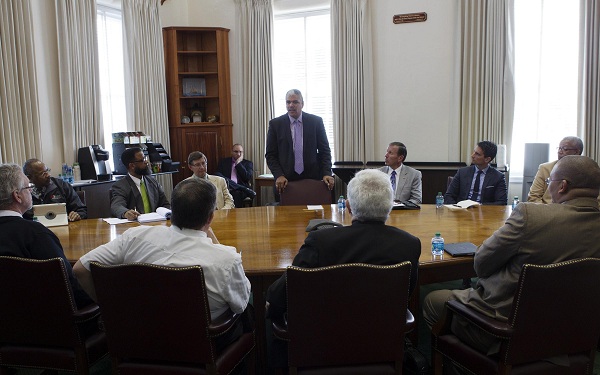 Premier Cannonier said, "As I have said before, all Ministers have been challenged to determine how to integrate anti-gang initiatives into their ministries. This meeting was a crucial first step in engaging the community in our efforts. Members of the clergy shared their passion and their determination to work with the Government to the benefit of Bermuda."
Bishop Vernon Lambe Sr.  urged that this "national problem" could only be solved by taking "national steps" including close collaboration of all stakeholders and an open admission of the origins of the problems. The challenge, Bishop Lambe said, "is to convince our young people that we are serious".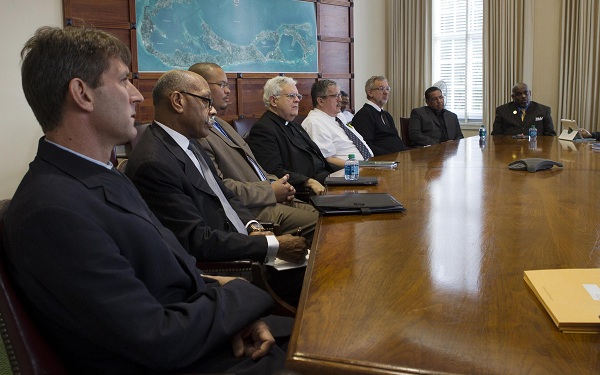 The recommendation of Bishop Lloyd Duncan for a National Day of Prayer was roundly supported by the meeting. "We must call the community together to pray for Bermuda, seeking God's guidance and ensuring that He is in the midst of all that we do to resolve these issues," he said.
Pastor Kenneth Manders of the Hamilton Seventh-Day Adventist Church spoke of the need to "bring healing to the victims' families" and added also, "if we know who we are dealing with, we must determine what we can do to get close to them and heal their hurt".
Members of the clergy also expressed their desire to see the Government address some enforcement issues:
Action on tinted helmet visors
Consistency in sentencing for offences
Ensuring that the Police have the resources to tackle crime
Ensuring that imprisonment acts as the deterrent intended by the criminal justice system and the community.
Minister Dunkley said, "The Government is committed to working with every sector of the community to make their outreach more effective. Strong enforcement is one part of the equation and the importance of it is seen in our constant support of deliberate police action in the fight against guns, gangs, drugs and violence.
"However, in this first of a series of community engagement meetings, we determined to deal with the spiritual foundation of truth and love that must be re-energized in our families and in the community. We must impact people where they are and spiritual leaders are ideally placed to lead the transformation of lives that must occur if we are to make Bermuda safe again."
The Minister also indicated that further meetings are also planned with clergy from other areas of the Island.
Read More About