Chase Cooper is the latest recipient of the annual Bermuda Optimist Dinghy Association [BODA] Sailor of the Year Award. BODA President Anthony Bailey announced the results of the 2012 ballot on Saturday night at a special BODA social evening held at the RHADC. The sailing membership of the organization were given the opportunity to vote for the awardee of their choice.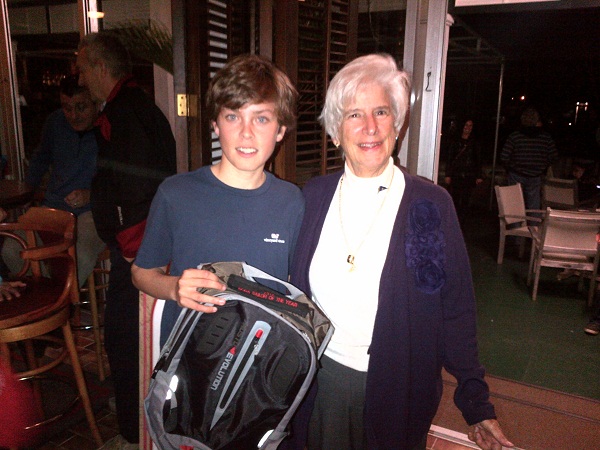 The trophy was presented by Mrs Neil Kempe, who first presented the award in 2011 in memory of her late husband, sailing stalwart, Dick Kempe. The award intends to recognize positive qualities in a young sailor: including application, commitment, enthusiasm, fairness, helpfulness, kindness and respect.
Mrs Kempe commissioned her son in law to create a perpetual trophy made from a family supply of Bermuda cedar. Recipients are also given special embroidered sailing backpacks as "keepers".
Cooper, a 14 year old Warwick Academy student, had a strong year in the Optimist, qualifying to represent Bermuda at the IODA 2012 South American Championship, World Championships and North American Championships.
It was at the North Americans where Cooper carded a memorable 10th place overall, the best finish for Bermuda since 2009. Other notable top finishes this past year included his 11th place at the Orange Bowl and 7th place at the 2012 RenRe Jr. Gold Cup where he and was awarded the Dick Kempe Trophy for the top Bermuda sailor.
Also awarded last night was an award for top BODA Female Sailor of the Year, which went to Ceci Wollmann. This award recognizes excellence by a female in the Optimist.
Ceci, a 15 year old Saltus student also had a very strong year in the Optimist qualifying for Bermuda in the 2012 South American Championships as well as competing in a number of summer regattas. She was Champion at the CORK regatta in Canada and was top girl in the Canadian and Bermuda National Championships as well as top girl the RenRe Jr. Gold Cup.
BODA Year in Pictures:
Both Wollmann and Cooper head off with their team next week to compete in a training regatta to prepare for the 2013 South American Championships. The Bermuda SA Team includes Chase Cooper, Ceci Wollmann, Mikey Wollmann, Peter Dill and Benn Smith.
They will attend the competitive Semana del Mar Regatta in Mar del Plata, Argentina where they will sail against 175 sailors from 8 countries, many of whom they will meet head to head again at the IODA South American Championships which will be held in Brazil this March.
Read More About