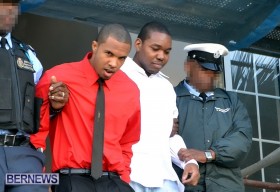 The trial of Jay Dill and Devon Hewey continued in Supreme Court today [Feb 5], with both men facing charges of killing footballer Randy Robinson.
At around 8.30pm on March 31 2011, Mr Robinson was fatally shot in the Border Lane North, Pembroke area.
The Crown has alleged that he was shot by Jay Dill who was riding on the back of a bike being driven by Devon Hewey.
Mr Robinson's girlfriend took the witness stand today, and said Mr Robinson used to enjoy going out and socializing, but stopped after he was jumped at a football game. She testified he had concerns about his personal safety.
The victim's mother had testified to the same effect yesterday, also saying her son had safety concerns after he was jumped at a football game by alleged gang members.
Taking the stand in late afternoon was Dennis McGuire, an American ballistics expert from a private forensics investigative firm in Florida. As directed by Justice Greaves, lead Crown Prosecutor Garrett Byrne read in Mr McGuire's background for the record.
This indicated Mr McGuire had over 20 years experience as a crime scene reconstructor with special experience in ballistics; and had given expert evidence in over 400 cases in the USA, Cayman Islands, Jamaica, and Bermuda.
The two defendants leave Court today with the police escorting the prison van:
Responding to the Crown's questions and looking at photographic evidence, Mr McGuire said that the bullets that killed Randy Robinson came from a .38 calibre revolver.
He said that the bullets matched those from one other case that he had investigated in Bermuda. He also said that the bullets were unusual in that they were a colour not commonly found and had a truncated nose.
Both men deny premeditated murder and using a firearm to commit the offence. The trial continues.
Read More About
Category: All, Court Reports, Crime, News