Scores of locals and visitors thronged Front Street on Friday morning [Feb 8] to catch a glimpse of the annual Convening of Parliament ceremony held on the Cabinet Office grounds.
Governor George Fergusson delivered the Throne Speech which outlines the Government's legislative agenda for the upcoming year. This was the first Throne Speech from the One Bermuda Alliance, who took control of the Government following their victory at the polls in December 2012.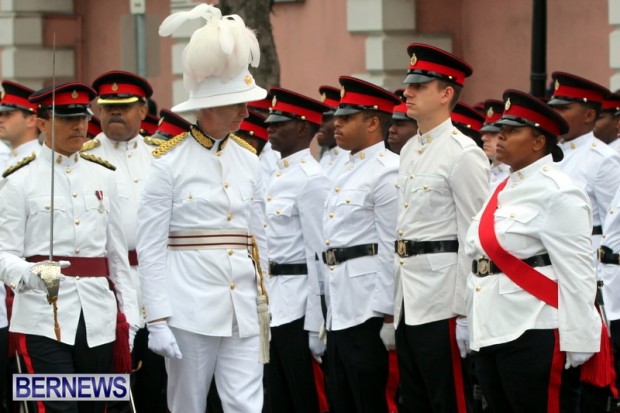 The Throne Speech revealed a number of initiatives including eliminating conscription, a two-year payroll-tax exemption for new Bermudian hiring, amending the Human Rights Act to include sexual orientation, a gun bounty programme, mandatory drug testing for Government MPs, reopening a Medical Clinic for people without health insurance and strengthening the ability to collect Government taxes.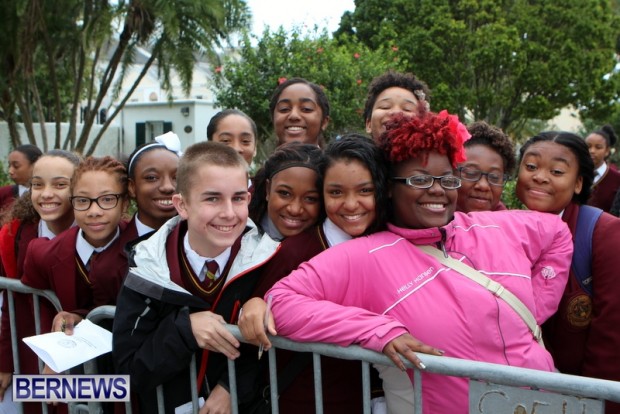 The Government also indicated it will repeal the Park Hyatt Act and find new developer for the old Club Med site, make GPS in taxis optional, make breaches of parole arrestable offences, fund a course to recruit 20 more Police Officers, take steps so seniors who purchase FutureCare pay the same premium and require able-bodied persons to participate in community service as a condition for financial assistance.
You can read the full Throne Speech text and highlights here, view a slideshow with 500+ photos here, 12 videos of Cabinet Ministers at the post speech press conference here, and all our coverage of the 2013 Throne Speech here.
Click to enlarge images:
Read More About