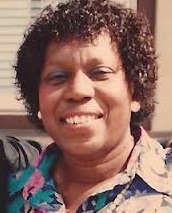 The Bermuda National Association of Social Workers [BNASW] will launch a scholarship fund in memory of the late Ida Miranda James [pictured] on Friday, March 1, 2013.
Ms. James was murdered in her home on 2nd September 2011. Norris Simpson was convicted of killing Ms James, and is awaiting sentencing.
Ms. James was the first qualified Bermudian graduate social worker from Dalhousie. She returned to Bermuda and joined a team of expatriate contemporaries. Over time, local clients preferred their own local social workers sparking the local interest in the field of social work.
Ida James has been described as one of the original pioneers of Bermuda's social work system and was a founding member of the Bermuda Social Workers Association. She remained involved in the evolution of the social work council for over twenty-five years.
In honour of Ms. James and with support of private benefactors, the BNASW has established a scholarship to support the advancement of social work education called the Ida James Memorial Scholarship Fund [IJMSF].
March 1 2013 also marks the start of Social Work month a world-wide celebration of social workers that promotes their role as positive change agents. The Social Work profession was established more than 100 years ago to provide as many people as possible with the tools and support they need to overcome adversity [poverty, illness, addiction, abuse, discrimination, etc.] and reach their full potential.
BNASW President Judith Brookes says, "Looking back over the memories we enjoy of Ida James, one of Bermuda's first Social Workers, the 2013 Social Work Month Theme 'resilience weaving advocacy' is fitting.
"Reflecting on the stories that Ida shared about the early days – sitting at a school desk at the Victoria Street Clinic – I am amazed at the number of social workers and services available today. We invite you to celebrate the professional life of Ida James and the unveiling of the Ida James Memorial Social Work Scholarship".
The BNASW is a locally registered charity organization. It will be tagging on March 22 and 23, 2013. Funds will support the Vision Impaired, Ida James Memorial Scholarship Fund, and its operating / professional development funds.
The Ida James Memorial Breakfast Tribute will be held at a Grand Café, 39 Church Street [corner of Parliament] from 8:30- 9:30am. Friends of Ms James as well as members of the public are invited.
Read More About