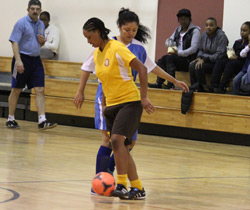 The PHC Lady Zebras lead the Women's Futsal League on goal difference over the Dandy Stars Gold.
Both teams have won three games and have nine points, however the Dandy Stars Gold team have only played three games, while PHC have played four. The Somerset Hurricanes, Dandy Stars Brown and the North Village Lady Rams all have six points.
Eva Frazzoni from the Somerset Hurricanes leads the League in scoring with 14 goals, Cleshaunay Darrell-Virgil from the Dandy Stars Gold has 12 goals and Micah Pond from the PHC Lady Zebras has 10 goals. PHC Lady Zebras' Aaliyah Nolan has scored 8 goals, and Dazhja Greaves has found the back of the net 7 times.
Two games took place this past weekend, with Somerset Hurricanes and Dandy Stars both recording wins.
Somerset Hurricanes 4 – PHC Lady Zebras 5
PHC led 3 to 2 at half-time, but the Somerset Hurricanes scored 2 quick goals in the final minutes of the game to put PHC under a great deal of pressure to defend their lead. Aaliyah Nolan was the top scorer for PHC Lady Zebras with 2 goals, while Micah Pond, Taznae Fubler and Raeesha Shakir all added a goal each. Eva Frazzoni scored 2 goals for the Somerset Hurricanes, while Dazhja Greaves and Kayla Corday added a goal each.
Young Men Social Club Lady Bluebirds 2 – Dandy Stars 11
As in last week's games, Cleshaunay Darrell Virgil was the top scorer for the Dandy Stars with 5 goals. Precious Cooper added a hat-trick, while Atiyah Symonds, Rayni Maybury and Alana Burchall all added a goal each. Rachel Smith and Debora Menezes scored a goal each for the Young Men Social Club Lady Bluebirds.
Read More About