In 2012 Bermuda hosted 1.7% fewer air visitors and 9% less cruise visitors than the previous year, according to the Quarterly Bulletin of Statistics released today [Mar 25] by the Department of Statistics.
Air arrivals during the fourth quarter of 2012 decreased by 1% to 44,406 air visitors, and overall in 2012 the Island hosted 232,063 tourists who arrived by air, a decline of 1.7% or 3,975 fewer air visitors than in 2011.
Chart extracted from the report: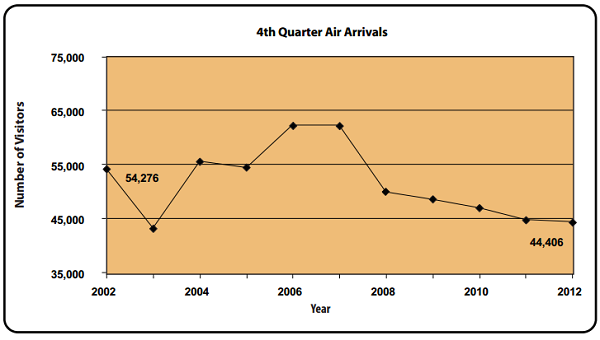 Total visitors from the United States, Bermuda's largest tourist market, slipped 0.7% below the level reached in the fourth quarter of 2011.
Arrivals from Canada decreased 3.2% to 6,778 visitors, arrivals from all other countries category declined 8.6% to 2,478 visitors. Conversely, air arrivals from the United Kingdom increased by 4.9% to 5,059 passengers.
Air visitor spending declined by $2.4 million to $58.4 million in the fourth quarter of 2012, a 3.9% decrease. Air visitor expenditure in 2012 totalled $312 million, 10.5% lower than the level of expenditure reported in 2011.
Cruise ship calls for the fourth quarter in 2012 dropped by half the number of visits experienced in 2011. The reduction was reflected in a 47.5% drop in visitors. In 2012, the number of cruise passengers fell by 9%.
Visitors arriving by cruise ships during the last quarter in 2012 spent $7.4 million on local goods and services, $6.4 million less than the amount spent during the same period in 2011. In 2012, cruise ship passengers spent $80.1 million on goods and services, 7.2% less than in 2011.
Gross receipts for the hotel industry fell by 1.9% to $40.9 million in the fourth quarter of 2012. Total hotel gross receipts in 2012 stood at $212.6 million, a decrease of $15.2 million compared to 2011.
The full Quarterly Bulletin of Statistics is below [PDF here]:
Read More About