Bermuda Regiment soldiers practiced protecting Bermuda on land and on sea at the weekend. "While troops took on the challenge of guarding crucial island installations, the Regiment's sea-going soldiers were working on maritime manoeuvres and search-and-rescue techniques",a spokesperson said.
"Soldiers from A Company took over the Link Bermuda site in Smith's, while the Boat Troop went on exercise in coastal waters and offshore."
Lieutenant Gordon Emmerson, 30, a high school teacher in civilian life, was in charge of teaching his platoon how to protect key installations in the event of a major natural disaster or civil disturbance.
Lt Emmerson said: "My role here is commander of a key point operation. What we're doing is internal security drills, which is one of the main functions of the Bermuda Regiment.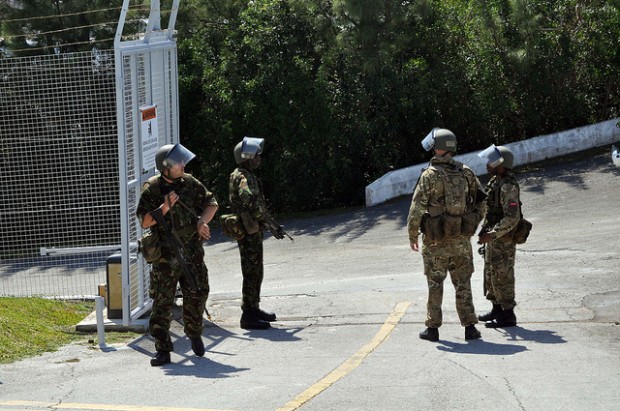 "A Company is the boots on the ground company and they're testing their ability to maintain security here. Communications is an area which is crucially important.
"Electronic communications are vital in a disaster relief situation, both on the Island and in keeping a link to overseas."
He added that, in the event of a major hurricane strike, members of the public would be worried and keen to know when normal services might be resumed.
Lt Emmerson said, "We also provide reassurance to the police as in our Mission Statement. I've been quite pleased overall this weekend. I've been looking for the junior commanders to operate with more independence.
"They're doing the changeover of tasks, maintaining the routine of rest periods as well as controlling the Quick Reaction Force (QRF) and swapping patrols."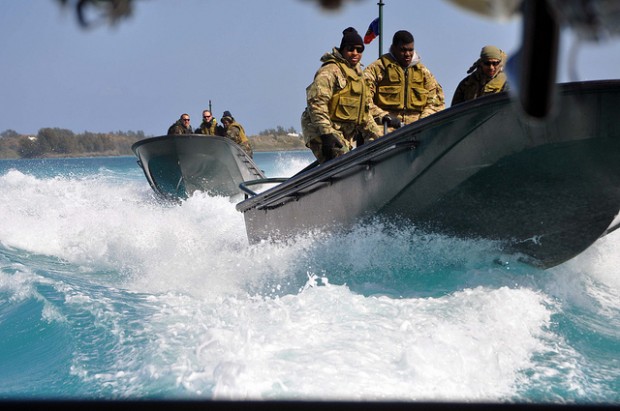 Lt Emmerson said: "Hurricanes are a fact of life in Bermuda and the potential for civil disturbance exist in countries all over the world; we don't have neighbouring jurisdictions to call on as was done in the London riots recently.
"Our role is to prepare for the worst that may happen. If it does, we will have an organised response which would be beneficial to the people of Bermuda. It's better to have it and not need it than to need it and not have it."
Other soldiers played members of the public and troublemakers to test the responses of the soldiers on duty. Lance Corporal Andre Landy led his section on patrols and sentry duties around the sprawling Link site.
He said: "It went really well – it is very strenuous, but it pays off in the end." Over in the east end, Sergeant Major Jeffrey Patterson said his troops had been working shore side and at sea in a practical test of their classroom knowledge of navigation and Global Positioning System (GPS) work.
Soldiers worked with Bermuda Reserve Police officers from the Marine Unit in a joint service operation that saw them working up to six miles offshore in high seas.
Sgt Maj, Patterson said: "They are doing well and morale is very good – the good thing about Boat Troop is they all want to be there."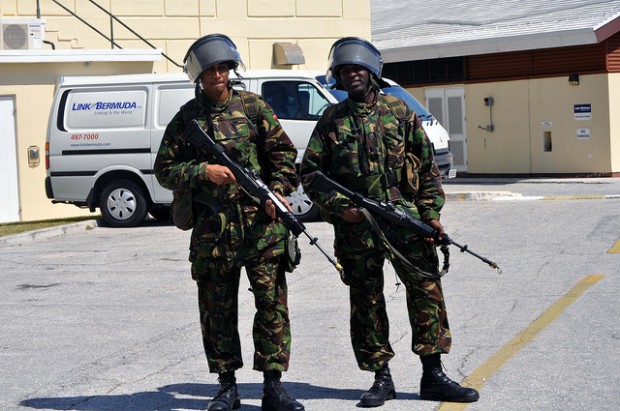 He added, however, that recruits do not need a sea-going background and pointed to Corporal Stephen Nganga, who was born and brought up in Kenya, two thousand miles from the sea.
Cpl Nganga, 30, a volunteer who is a senior analyst at the Bermuda Monetary Authority when he's not in uniform, said: "I've enjoyed the weekend very much. I joined up with no previous military or nautical experience; however, I have learned a great deal and I have been able to practically implement my new skills.
"It's also of benefit to Bermuda in terms of manpower and gives me an opportunity to contribute to the Island community.
"We work a lot with the Bermuda Police to ensure the Island has good maritime security and we have a really good relationship with them."
Police Reserve Sgt Jeffrey Benevides added: "It's been good. It's a lot of hands-on stuff, which we need. I've been around boats all my life, but the Regiment side of things and sailing in formation is all new. I've learned a lot.
"I feel it's important that all the Government agencies work together. At the end of the day, we all want the same result – a safer and more secure Bermuda."
Photos by the Bermuda Regiment, click to enlarge:
Read More About