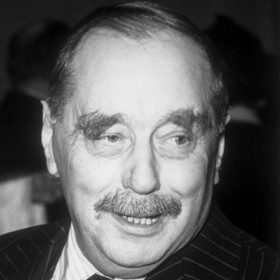 One of the 20th century's most utopian visionaries and one of the leading architects of its most evil ideology had an entirely unlikely — and predictably uncomfortable — encounter at a Bermuda tea party in the early days of World War Two [1939-45].
Considered one of the founding fathers of science fiction along with Jules Verne for his early novels including "War of the Worlds", "The Time Machine" and "The Invisible Man", by the 1940s Herbert George Wells [1866-1946] was better known throughout the world as a historian and political philosopher espousing a "new world order" based on socialist, technological and pacifist principles.
Extrapolating future developments from past and current social, fiscal and scientific trends, Mr. Wells' non-fiction writing during this period was marked by a sometimes naive but nevertheless sincere desire to see "the world set free" from the racism, militarism and economic inequalities which had precipitated both the Great Depression and World War Two.
Though his political activism drew criticism in some quarters [contemporary British author G.K. Chesterton quipped: "Mr. Wells is a born storyteller who has sold his birthright for a pot of message ..."], his writings and speeches on geopolitical developments were generally well-received.
His reputation as a sage only grew when the global war he had forecast in 1933′s "The Shape of Things to Come" broke out in September, 1939 — just four months prior to the January, 1940 date he had predicted.
On October 28, 1940, H.G. Wells famously met wunderkind actor, director, writer and producer Orson Welles — whose radio adaptation of "War of the Worlds" had inadvertently panicked America when it was broadcast on NBC at Halloween in 1938 – at the end of a US lecture tour.
He then planned to head back to the UK by way of Bermuda aboard a  transatlantic flying boat..
When he arrived on the island, though, the champion of worldwide peace and disarmament found himself embroiled in what amounted to a war of words with one of Adolf Hitler's former top henchmen.
H.G. Wells talks with Orson Welles shortly before flying to Bermuda
Otto Strasser was born in Bavaria in 1897. He and his brother Gregor Strasser were among the most prominent leaders of the early Nazi Party.
Along with propaganda chief Joseph Goebbels, the Strasser brothers were primarily responsible for transforming the Nazi Party from a fringe political group into a national movement that appealed to millions of Germans.
Like his brother Gregor, Otto Strasser would take the "socialist" tenets of the "National Socialist German Workers' Party" seriously and advocated for socialist ideals on behalf of German workers. Ignored by the party leadership, Otto Strasser became disillusioned with Adolf Hitler's actions much more quickly than Gregor and left the Nazis in 1930.
Gregor Strasser was murdered by Hitler during the "Night of Long Knives" in 1934 and following that purge Otto Strasser hurriedly left Germany. Despite his schism with Hitler, for the rest of his life Otto Strasser would promote neo-Nazism and the concept of a German Fourth Reich — though in opposition to some of the ideas endorsed by the German dictator.
He fled, first to Vienna, then Switzerland, France just as that country was overrun by Nazi forces in 1940, Portugal and finally Bermuda.
One-time Hitler lieutenant Otto Strasser arrived in Bermuda in October, 1940 and was given sanctuary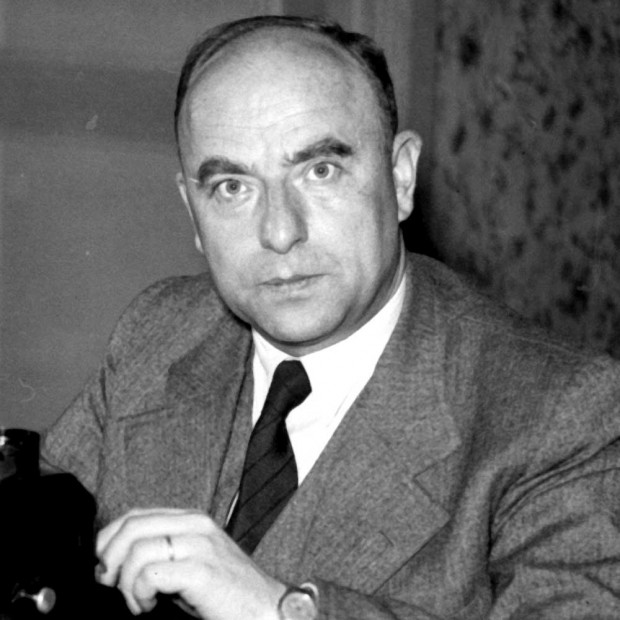 "Otto Strasser arrived in Bermuda on the SS 'Excambion' on 9 October 1940 under the name of Otto Bostroem, using a Swedish passport," said the Nazi ideologue's biographer Douglas Reed. "It is possible that Strasser's presence may have been an embarrassment to the authorities in Bermuda.
Quickly approached by British Secret Intelligence Service agents in Bermuda, he was encouraged to continue his anti-Hitler writings which had sustained him since he fled Germany and "he earned enough to support himself [on the island] by writing articles for American newspapers and on this lived in reasonable comfort …"
"In Bermuda Strasser for the first time trod British soil," ," said biographer Mr. Reed. "He has always had a soldier's esteem for the men against whom he had fought, and in addition belongs to that large body of Germans who feel, helplessly, that the salvation of Europe and the West would be ensured if the two countries could but find the way to work together biographer.
"… In 1940 this German exile found nothing to mock and much to admire in the British Colonial official. He wrote at the time, 'The Colonial Britisher, with his training, education, self-confidence, integrity and incorruptible judgment belongs undoubtedly to the best products of our civilisation. The Colonial Secretary on this island was an especially good specimen of this type, whose example unquestionably inspired a large circle around him'."
Bermuda postcard, circa 1940, when H.G. Wells and Otto Strasser were on the island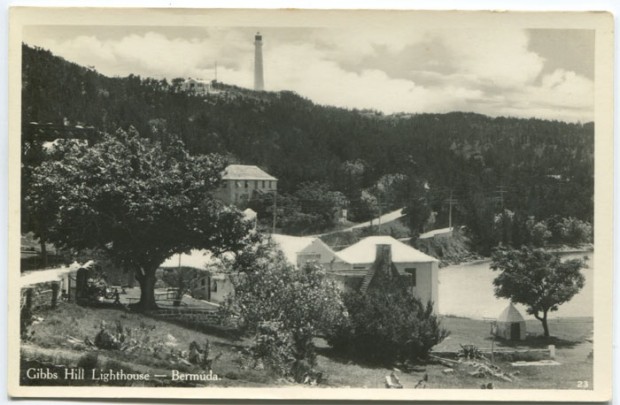 After the hunted life he had lived for seven years, with death ever at his heels, Bermuda was "reprieve, respite and enchantment" for the former Nazi Party official.
"He still speaks of  [Bermuda] as the loveliest spot he has seen on earth, and as he has seen many delightful places this superlative opinion may to some extent be relative to the grim experience that lay behind him,"  Mr. Reed wrote in 1953.
Mr. Wells ended up being stranded in Bermuda for a few days when. according to Otto Strasser's account, the author was compelled to give up his seat on the flying boat for mail required by the British war effort ["Under this indignity [the author] swelled, bullfrog-like, until he nearly burst. 'Urgent mail!' he snorted, 'why, most of those letters are for me anyway!']
Other historians say the ongoing legs of the flight to Europe had been delayed by bad weather.
While the author was biding his time in Bermuda, Mr. Wells and Mr. Strasser met at a tea party both had been invited to.
Otto Strasser contemplated Mr. Wells with "mild disillusionment", saying he felt as if he had "suddenly encountered the ghost of 19th century liberalism, talking through the hat on its decapitated head in the ruins of the [socialist] Fabian Society's manse. There was no common ground …"
1936 report on H.G. Wells' film "Things To Come" and his  predictions about rocketry and aviation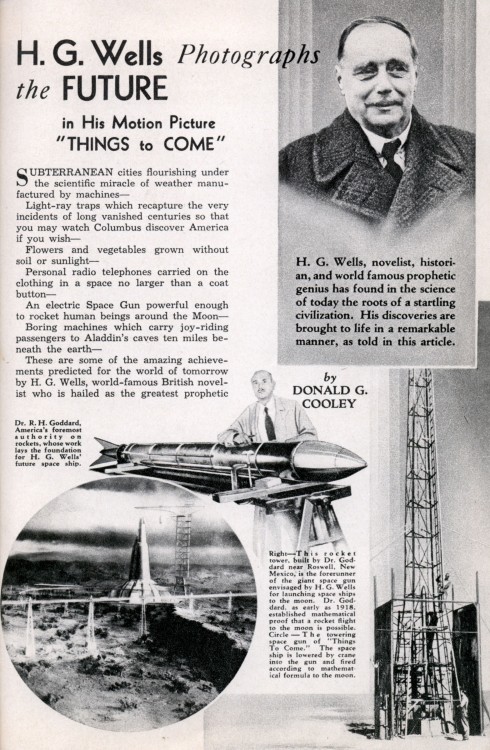 For his part, H.G. Wells found his curiosity "violently aroused" by Otto Strasser, who repeatedly shouted 'Heil Germany!' throughout their meeting.
Ina widely syndicated newspaper article published shortly after the Bermuda encounter, Mr. Wells described the German exile as "a blood-stained Nazi … soaked to the marrow with the idea of the German people being first and foremost in Europe and the world."
The author went on to ask why the British authorities had not incarcerated Otto Strasser instead of "petting and encouraging" him for his anti-Hitler propaganda writings.
Mr. Wells' denunciation of Otto Strasser is thought to have blunted his usefulness to the Allied wartime propaganda effort.
Otto Strasser left Bermuda on April 3, 1941 for St. John, New Brunswick, under the name Oswald Bostock.
He continued to write regular condemnations of Hitler's regime for a number of American, Canadian and British newspapers and magazines for the duration of World War Two but he never recaptured the cachet he had as a top-ranking defector from Hitler's inner circle following Mr. Wells'  report on the Bermuda tea party . He died in Munich 1974.
Mr. Wells, who died in 1946, lived long enough to see the atomic weapons he had anticipated — and feared — as early as 1914 dropped on the Japanese cities of Hiroshima and Nagasaki at the end of World War Two.
Read More About