This is the sixth consecutive year HSBC Bermuda staff have been volunteering through the Centre on Philanthropy online Volunteer Team Tracker programme. The website, www.volunteer.bm is open to the entire community to search for registered Bermuda charities and sign up for volunteer opportunities that fit your personal schedule and interest areas.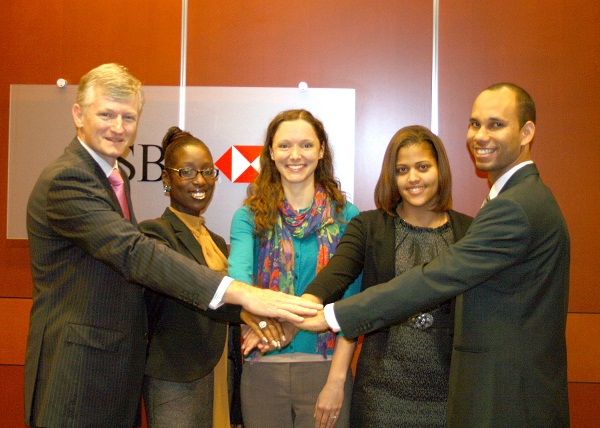 HSBC Bermuda supports staff volunteering in the community and in an effort to inspire staff, HSBC Bermuda offered a cash donation to the top three full time staff members who logged the most volunteer hours. Each received $1000 for the charity of their choice and in addition, anyone logging 20+ hours on the Team Tracker Programme, received $500.
This year's winners shared a few words on why they are committed to volunteering:
Cyril Whitter, Business Analyst
Selected Charity – Team Tuned Motorcycle Racing
"Taking the time to give back to our community's youth has become a key part of my life. It is important to me to be able to give of myself to help guide and educate our future generation into the leaders of tomorrow. It is a great cause which HSBC Bermuda has established through the Team Tracker initiative which allows us to track our hours and donate back to a charity in our community.The non-profit sector is experiencing severe hardship during the current economic climate and every dollar counts towards their ability to achieve their goals to support worthwhile causes in our community. My choice to donate to a charity in which I assist in organising was due to the rising need for Bermuda's youth to have positive alternative sporting outlets in our community."
Josette Matthews, Custody Administrator
Selected Charity – The Family Centre
"I give up my time to volunteer because I very much enjoy giving back to the community by helping those in need. The appreciation that you receive from the different charities/organisations is worth it in the end. I feel that others should take advantage of this great opportunity because there are so many individuals/groups that are in need. The Centre of Philanthropy's Volunteer.bm website is a great and easy way to record and keep track of your hours. This year I selected The Family Centre because children are our future and there are so many that are in need of financial support.
Katrina Simons, Senior Events Specialist
Selected Charity – YouthNet
"I always look back on my own childhood and remember the community programmes I was involved in. At the time I didn't realise it, but the volunteers of those programmes were positive role models and influenced decisions I made at a very impressionable age. By volunteering for Youthnet I hope to have the same impact on today's youth. I think others should consider volunteering to work with our youth because much of our community's success can be linked to people giving back and is in some cases taking a community approach in raising today's youth. This year I chose to give my award to Youthnet for the third year as I believe it is has a huge impact on our community."
Read More About