This morning [Mar 14] commuters in Hamilton may have witnessed Digicel staff — wearing red attire and riding red rental bikes — making their way around the town as part of the launch of their new product for prepaid cellular customers.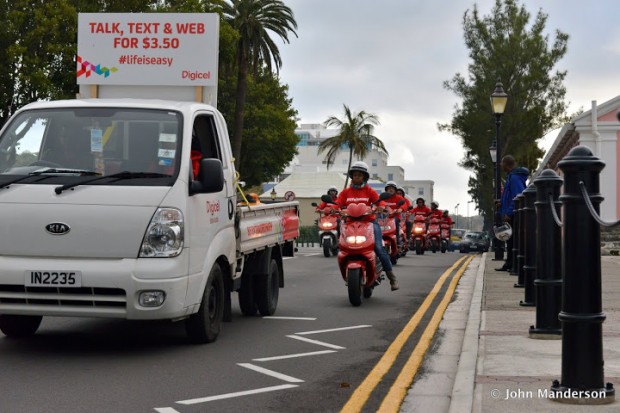 The new Digicel Prepaid Daily Plan offers prepaid subscribers a voice, text and data package for $3.50 per day. The plan works as a self service product in that customers can add the plan to their smartphones on their own by simply dialing a code – either *236# from their BlackBerry or *235# from their iPhone or Android. The plan includes unlimited local calling, unlimited local text messages and 10 MB of data for $3.50 a day.
"At Digicel, we are focused on delivering convenient and affordable products and services that allow our customers to keep current and stay connected. The introduction of this prepaid daily plan enables more customers to do just that," explains Digicel Bermuda CEO, Wayne Caines — who was leading the pack on his red rental bike this morning.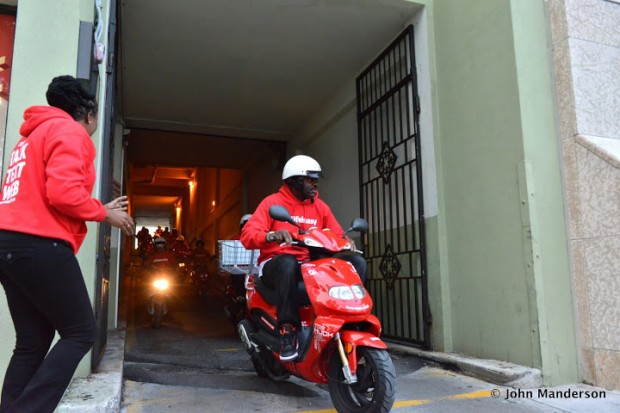 "The inclusion of data makes this plan unique to any other prepaid offering in Bermuda and allows Digicel Prepaid customers to do more than talk and text. We strongly believe that our customers will appreciate this opportunity to get it all for one low price of $3.50 a day," continues Mr. Caines.
Shane McDonnell, Sales Director of Digicel Bermuda adds, "Both prepaid and postpaid customers are increasingly purchasing data driven smartphones and devices. This daily plan allows prepaid customers to make the most of their smartphone investment by allowing the use of popular social apps such as BlackBerry Messenger, Whats App, Instagram and thousands more."
In addition to the talk, text and web elements included in the Digicel Prepaid Weekly Plan, subscribers will enjoy other benefits exclusive to Digicel Prepaid such as free incoming Digicel calls, free incoming Digicel text messages, their $7 Government paid for them each month and over 200 top up locations island wide.
Anyone looking to sign up for the Digicel Prepaid Daily Plan can easily do so directly from their mobile phone: First, ensure that there is sufficient credit of at least $3.50 available on your Digicel Prepaid SIM. Then, dial *236# using your BlackBerry or *235# using your iPhone or Android smartphone and follow the instructions.
The Digicel Prepaid Daily Plan is designed to automatically renew 24 hours from activation as long as sufficient credit is available. Subscribers will receive automated notices upon consumption of 70% and 100% of the 10 MB of data included in the plan.
For those prepaid customers using standard mobile phones, without data capabilities, there is a variation of the Digicel Prepaid Daily Plan that offers unlimited talk and text only for $2.50 a day.
Click to enlarge photos:
Read More About
Category: All, Business, News, Photos, technology