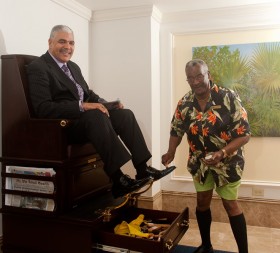 In a nod to the traditional business hotel, The Fairmont Hamilton Princess today unveils its new shoe shine stand.
Located in the lobby, the custom-made, antique-inspired chair will serve as both a functional shoe shine stand as well as a unique show piece. For $6, guests of the hotel can give their footwear the "royal" treatment to include cleaning, polishing and buffing to a perfect shine.
The honour of the very first shoe shine was given to Premier Craig Cannonier who said: "I think the new shoe shine stand is a wonderful and practical service to offer guests, particularly business travellers."
"As one of the main business hotels in Bermuda, we felt this new chair was a natural addition to The Fairmont Hamilton Princess," said Len Czarnecki, General Manager at The Fairmont Hamilton Princess.
"As the only shoe shine stand like this in Bermuda, we were thrilled to have Premier Cannonier be the first to experience the service and we invite locals and guests to come in and give it a try."
Situated near the concierge desk, the dark red mahogany stained chair features solid brass footrests and hardware, and comes complete with a built-in newspaper rack. The shoe shine stand will operate between 7am and 10am, Monday through Friday, except on holidays.
Read More About