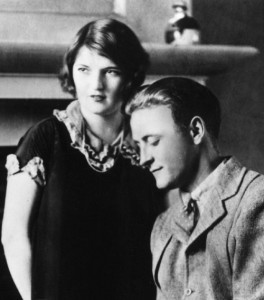 Their romance defined the "Jazz Age" — so it's perhaps not surprising that "Great Gatsby" author F. Scott Fitzgerald and mercurial wife Zelda found themselves in Bermuda during that free-spirited period when the island's tourism industry was enjoying an unprecedented vogue among America's literati and rich and famous.
Married after the publication of his first novel, "This Side of Paradise", Princeton-educated Scott Fitzgerald and his Alabama-born, Southern belle bride became embodiments of the Roaring Twenties.
Scott Fitzgerald's term the "Jazz Age" came to describe the years between the end of World War One and the onset of the Great Depression when there were revolutions in musical taste, fashion and social mores; generally regarded as one of America's greatest 20th century writers, both his life and work both have come to be associated with the joys of young love, wealth and success — as well as the tragedies which come with excess and failure
Youthful, beautiful and supremely talented, following their 1920 marriage Scott and Zelda Fitzgerald [pictured above] were dubbed the "golden couple" by American newspapers which covered their every move as assiduously as they did the movie stars of the day.
But the reality was far different. Their marriage has been described as "an ominous gothic version of that wishful fairytale life",  involving alcoholism, mental illness and infidelity.
A dancer, artist and writer, Zelda Fitzgerald was plagued by periods of mental instability throughout her life and her own creative output was overshadowed by her husband's work which also included the novel "The Beautiful and the Damned" and the short stories "The Diamond As Big As The Ritz" and ""The Curious Case of Benjamin Button."
"By the time the stock market crashed in 1929, so too had the Fitzgeralds," said one biographer. "Scott's drinking caught up with him, and Zelda's eccentricity evolved into schizophrenia. Their sad downfall is captured in Fitzgerald's 1930 story, 'Babylon Revisited'.
"Zelda would live the rest of her life [in and out of] mental institutions while Scott spent his final years in Hollywood, struggling to pay for her treatment and trying to recapture his lost glory. Their daughter, Scottie, was raised by other people."
During a period when she was relatively free of mental distress, Scott Fitzgerald brought his wife to Bermuda on the advice of her doctor.
"For years we had wanted to go to Bermuda," she recorded in her journal. "[In 1933] we went.
"The Elbow Beach Hotel was full of honeymooners, who scintillated so persistently in each other's eyes that we cynically moved.
"The Hotel St. George was nice. Bougainvillea cascaded down the tree trunks and long stairs passed by deep mysteries taking place behind native windows.
"Cats slept along the balustrade and lovely children grew.
"We rode bicycles along the wind-swept causeways and stared in a dreamy daze at such phenomena as roosters scratching amidst the sweet alyssum.
The St. George's Hotel during the period when the Fitzgeralds stayed there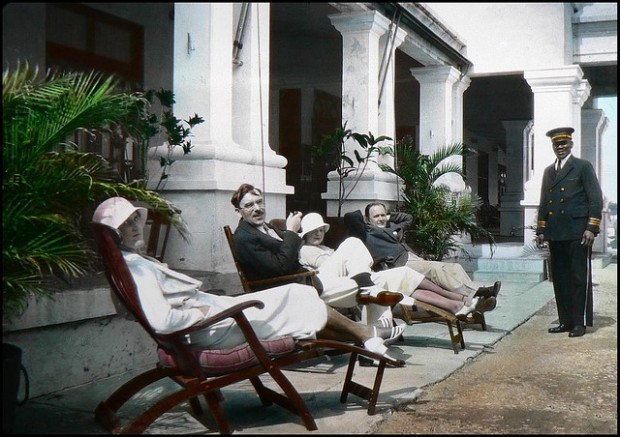 "We drank sherry on a veranda above the bony backs of horses tethered in the public square …"
While in Bermuda, Scott Fitzgerald came down with a lung infection and had to finish the final revisions to his masterpiece "Tender Is The Night" — published in 1934 — in bed.
Zelda Fitzgerald filled  her time while her husband was ill drawing pencil sketches in an art pad; "Three Ballerinas" — pictured below — is one of her Bermuda drawings.
In what proved to be a prophetic postscript, Zelda Fitzgerald wrote: "Maybe this would be the last trip for a long while. We thought Bermuda was a nice place to be the last one of so many years of travelling …"
The couple — who had been the toast of Paris in the 1920s after the publication of "The Great Gatsby" — took only one more overseas trip together after the Bermuda vacation.
In 1938 they travelled to Cuba on a trip that has been described as "a disaster even by their standards"; the author was beaten up when he tried to stop a cockfight and returned to the United States so intoxicated and exhausted that he was immediately hospitalised. The couple never saw one another again.
Zelda Fitzgerald's "Three Ballerinas" was drawn in Bermuda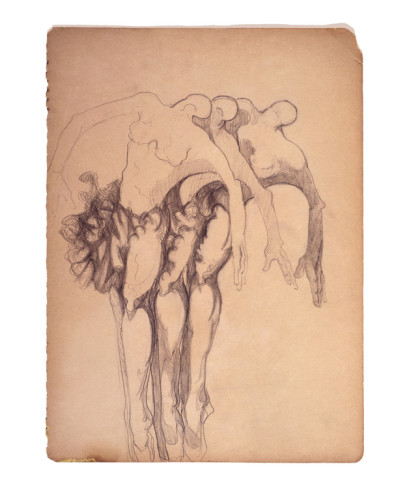 Zelda Fitzgerald biographer Nancy Milford said the Fitzgeralds eventually became victims of the free-wheeling lifestyle they came to represent in the popular imagination.
"One of the problems with the Jazz Age was its irregular beat," she said in an interview. "It was not conducive to a writer's life. If you're high, whether it's on drugs or booze, it can make it rather difficult to perform, and Fitzgerald did an amazing job.
"He wrote something like 130 short stories, and some of them are extraordinary. But in terms of their personal lives, they were free as birds.
"… Fitzgerald did not understand living off of your capital versus living off your interest. The Jazz Age became something they personified rather flawlessly … And of course Zelda [eventually] was broken beyond recognition."
Scott Fitzgerald died of a heart attack in Los Angeles 1940 at the age of 44.
Zelda Fitzgerald was killed in a 1948 fire at the Highland Mental Hospital in Asheville, North Carolina. Just 48 years old, she was locked into a room, awaiting electroshock therapy, at the time of the blaze.
Read More About
Category: All, Entertainment, History