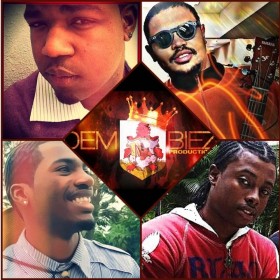 In February singers Jumar Hayward and Cahlii Smith of the DemBiez production team took to the streets of Hamilton — literally — to gain a first-hand understanding of what life is like for Bermuda's homeless population.
They are in the process of completing a full-length documentary on their two-day odyssey of homelessness and posted a 20 minute segment at their Facebook page yesterday [Apr. 20].
"Facebook only lets you upload a maximum of 20 minute of video," said a Dembiez spokesman."… But we are getting a longer version on Dvd's to take schools and so people can view it.
"Also working on having it debut on some local stations … A special thanks to AlickFilms Donryco for editing the video! We hope we can spread a little hope and restore faith in Bermuda in various ways. Even though we are a music label there are so many ways to reach out and everyone can use their talent towards something positive."
DemBiez was officially launched last December when Mr. Smith, Mr. Hayward, Shomari Warner and Coshaun Evans discovered they had a talent for creating and writing music together.
The production team is currently signing local talent from ages 14 to 20 under and assisting them with song writing, singing, music videos and photo shoots.
Segment from forthcoming DemBiez documentary on homelessness
Read More About
Category: All, Entertainment, Films/Movies, Music