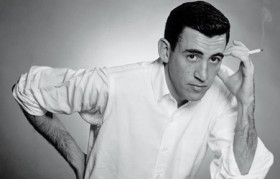 Reclusive author J.D. Salinger remains best known for dissecting the "phony" adult world in "The Catcher In The Rye" and his various short stories — but he also proved himself a dab hand at capturing the minutiae of Bermuda life in a letter he sent to a friend from the island in 1966.
When New York-born Jerome David Salinger [1919-2010] published his novel "The Catcher in the Rye" in 1951 the book was an immediate popular success.
His portrayal of protagonist Holden Caulfied's adolescent alienation and loss of innocence was hugely influential, especially among younger readers. The novel remains widely read — and widely controversial in conservative quarters — selling around 250,000 copies a year.
The success of "The Catcher in the Rye" led to widespread public attention and intense scrutiny from the media, resulting in the retiring author growing increasingly reclusive.
His last published work, a novella entitled "Hapworth 16, 1924″, appeared in "The New Yorker" on June 19, 1965.
The following year Mr. Salinger was vacationing in Bermuda with his mother, Mary, when he wrote to friend Carrol Roderick in Hampshire, England.
Written in typical deadpan Salinger style, he begins with a list of made up headlines about local goings-on in Bermuda.
The letter opens: "Dock Strike in Third Day / Mrs. Browne-Evans Calls for Democracy / Flatts Bridge Open / Bank of Bermuda Building a Mere Shell / Six Degrees NISI Granted in Court / New Firehouse to be Ready in 1984 / No Rain in Sight / Parliament Unhappy — Particularly Mrs. Browne-Evans / Burnaby Street Noisier Than Ever / Unnecessary to Blow on Hands While Typing …
"Dear Carrol, If the London 'Times' can print news on the front page, I might be permitted headlines at the top of the letter. So how are you? Well and happy I hope.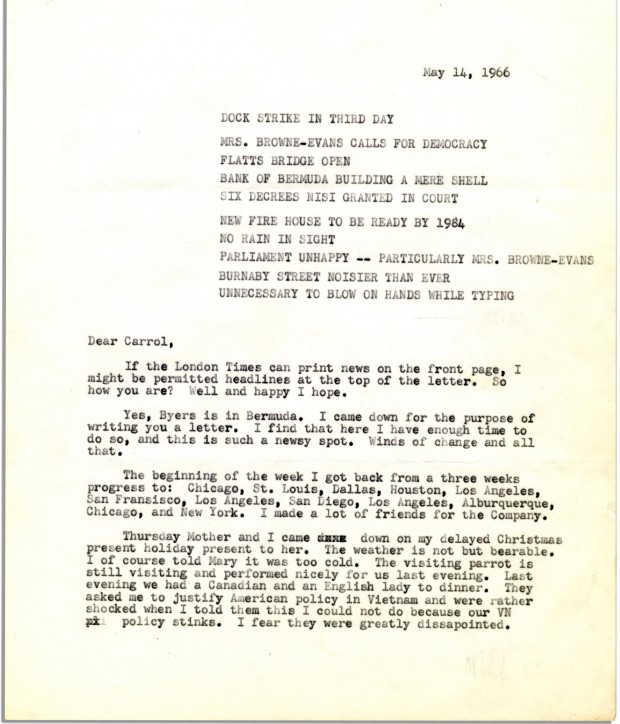 "… I came down for the purpose of writing you a letter. I find that here I have enough time to do so, and this is such a newsy spot.
The author said the Bermuda trip was "my delayed Christmas present holiday present" to his mother and that the weather on the island was "hot but bearable"; he added "I of course told Mary [his mother] it was too cold."
Mr. Salinger touches on the topical issue of the Vietnam War, where the American military presence was escalating under President Lyndon B. Johnson.
"Last evening we had a Caucasian and English lady to dinner," he said. "They asked me to justify American policy in Vietnam and were rather shocked when I told them this I could not do because our VN policy stinks. I fear they were greatly disappointed…"
On page two, Salinger provided little stories based around the "headlines" from the first page, joking that he was providing Ms Roderick with a "six-penny edition" newspaper of Bermuda current events.
For example, expanding upon the "Dock Strike" headline, he writes: "According to the Bermuda Industrial Union, there is no dock strike. It is a simple case of the men refusing to work…"
And referring to roadworks at Flatts Bridge, he says: "Yes indeedee! It are open! Two years of carefull [sic] work have borne fruit. They plan to remove the construction [debris] by 1968."
He also dissects a "HA" [House of Assembly] debate on upgrades in the civil service, criticising then Member of Colonial Parliament [MCP] and future Opposition Leader and Attorney General Lois Browne Evans for having her feet "firmly planted in mid-air" on the subject.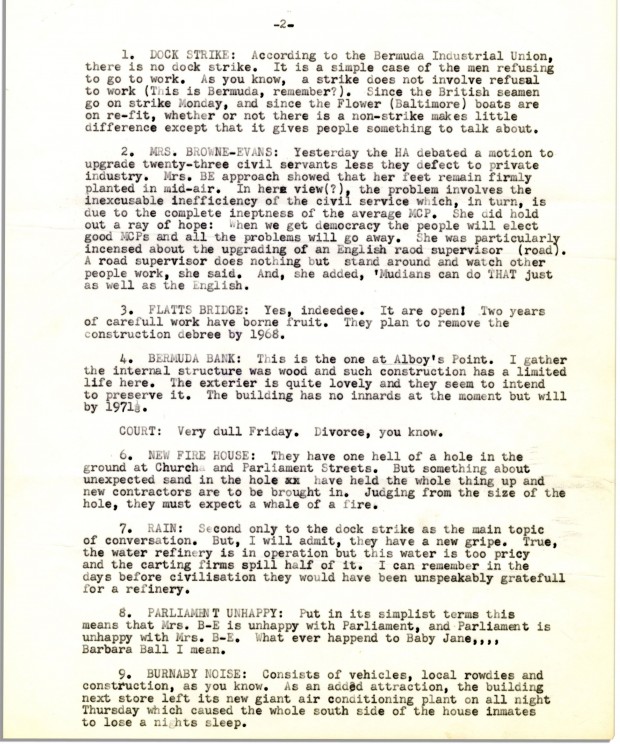 Mr. Salinger — who once romanced Bermuda-born Oona O'Neill, the daughter of tragedian Eugene O'Neill and longtime wife of comedian Charles Chaplin — concludes: "If something happens before we leave I will report it to you … It is said that we have the government we deserve. It would appear that the British and Americans have been very naughty indeed to have the governments they currently have."
The three-page letter is being sold by California auctioneer Nate D. Sanders who specialises in Hollywood memorabilia and autographed collectibles.
He can be contacted at 310-440-2982 or via email at info@natedsanders.com
Read More About
Category: All, Entertainment, History