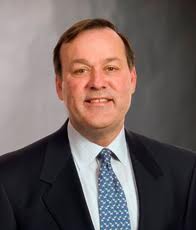 W. Marston Becker, president and CEO of Bermuda's Alterra Capital Holdings Ltd.,will address faculty and students of his alma mater tonight at the Business and Economics Distinguished Speaker Series tonight [Apr. 25] at at West Virginia University [WVU].
Mr. Becker [pictured], a WVU College of Business and Economics alumnus, founded Alterra which now has assets of approximately $10 billion.
The company has major underwriting platforms in Bermuda, Ireland, the United States, the United Kingdom and Latin America.
Jose Sartarelli, Milan Puskar dean of the College of B&E, said Mr. Becker is a successful businessman and said he believes students will have the opportunity to learn from his firsthand experiences.
"Marty Becker represents a very special story and is a person students can really look up to," Mr. Sartarelli said. "He is from West Virginia, graduated from the state's flagship university and loves this state very much.
"He serves this state in a number of capacities, and he has invested in this state. He is a highly successful businessman who has truly excelled in everything he has done, and there is much to be learned from him."
Read More About