This morning [Apr 29] Minister of Economic Development Dr Grant Gibbons was joined by Bermuda Stock Exchange CEO Greg Wojciechowski to ring the opening bell for the NASDAQ stock exchange. The BSX is celebrating an upgrade of its exchange technology platform to NASDAQ OMX state-of-the-art trading system, X-stream.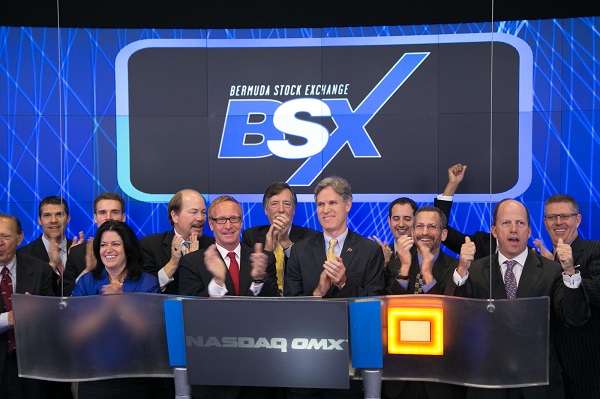 The NASDAQ OMX Group, Inc. and the Bermuda Stock Exchange have launched NASDAQ OMX's X-stream trading platform providing BSX with world-class trading technology and strengthening BSX's dedication to the development of Bermuda's domestic market, fueling capital to the country's small and medium businesses as well as BSX's leadership position in insurance related trading activity.
"The Bermuda Stock Exchange has always been focused on investing in technology that ensures that our trading platform is among the most advanced in the world and that further extends our leadership over other competing exchanges," said Greg Wojciechowski, President and CEO of Bermuda Stock Exchange. "By deploying the industry's leading trading engine, we are making clear to the domestic and foreign markets that we are dedicated to operating a powerful, open marketplace."
BSX and its members will benefit from significant enhancements in performance, latency and throughput capacity by upgrading to NASDAQ OMX's proven exchange technology.
NASDAQ OMX technology is used by over 70 marketplaces in 50 countries. Operating with X-stream technology, BSX will be the most powerful trading venue in the Caribbean and offshore markets as defined by performance, latency and throughput.
"It is an honor to be powering Bermuda's premier marketplace with our trading technology," said Lars Ottersgard. "X-stream's core functionality will give BSX a lot of different capabilities to move into different product areas and have high-order capability. Partnering with BSX as it pursues robust domestic and international growth initiatives widens its leadership position in the off-shore business."
Read More About
Category: All, Business, News, technology