The new Picturesque Gallery in the Walker Arcade was officially opened on Thursday [Apr 25] by Minister of Tourism Development and Transport Shawn Crockwell. The gallery recently moved from its former location in the Design Centre, Front St. East, to the Walker Arcade in the center of Hamilton.
The gallery features and sells the iconic and timeless Bermuda images taken by veteran photographer Roland Skinner over his 40 year career. Now part of the A.S. Cooper Group, the gallery is overseen by gallery manager Mary Walker. Mr. Skinner still acts in an advisory role and visits the gallery regularly.
L-R: Roland Skinner, Somers Cooper, Minister Crockwell, Mary Walker, Tourism Director Billy Griffith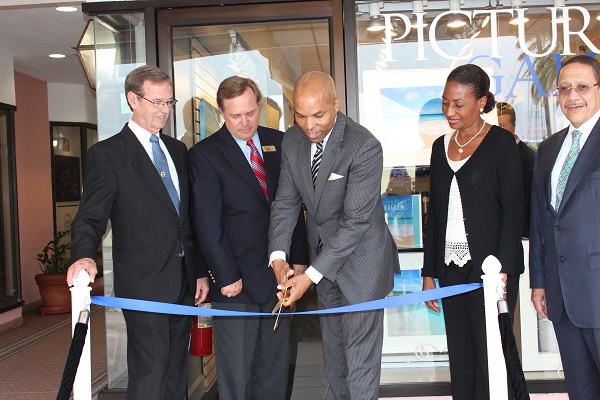 A.S. Cooper Managing Director, Somers Cooper commented, "I have always felt that Roland Skinner's photographs capture the true essence and beauty of Bermuda. We have continued to work with Roland to enhance the brand.
"Together we have developed and introduced new products and ideas which ultimately make their way to homes and offices in Bermuda and around the world. These archival quality photographs and gifts continue to promote the island year in and year out. We thought it was only fitting that our Tourism Minister cut the ribbon to officially open our new location."
The new gallery's notable features includes a large display window featuring back-to-back 80" wide canvas prints. One side features the popular island aerial image while the other side shows a beautiful Harrington Sound panorama. Special orders are encouraged and worldwide shipping is available.