Bermuda Regiment soldiers put their training in dealing with civil disorder to the test in a realistic training exercise at the weekend.
Soldiers 'defended' key points in the Dockyard area in an exercise designed to teach them to cope with a variety of potential flashpoints in support of the island's police service.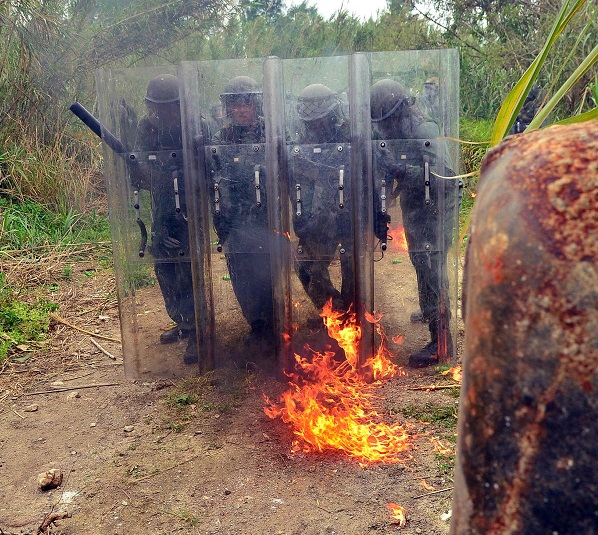 Captain Andy Jobst, who commanded the troops tasked with a public order role, said that the exercise included dealing with peaceful demonstrations – but also with violent criminal elements who might try to take advantage of social unrest.
Capt. Jobst, 38, the chief economist at the Bermuda Monetary Authority in civilian life, added: "These are the newest soldiers in the Regiment – they've only been wearing uniform for three months and I'm very satisfied with their output.
"The professional attitude is there and the scenarios we had to deal with are entirely possible. If we don't train rigorously for them, if they ever happened, we would have serious problems in responding in an appropriate way."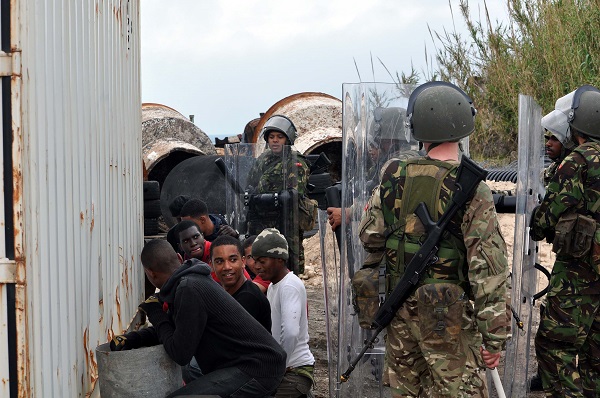 Soldiers from the Junior NCOs cadre acted as criminals who were intent on causing trouble, lobbing missiles and petrol bombs at soldiers tasked with controlling outbreaks of violence.
At Warwick Camp, the Band played their other role of guard duty to keep the nerve centre of the Regiment protected – and also had to deal with a suspected bomb planted on site by exercise organisers.
Training Officer Major Martin Wyer said: "The exercise brought out very good learning points, allowing us to move forward with our training.
"The public order exercise went very well and proved the Regiment is more than capable of acting in support to the police in any situation which may arise.
"It's very good experience as we go into our overseas training exercise, Island Warrior, in the US in a few weeks' time. We've learned some valuable lessons – the troops are exhausted, but that's all part of it."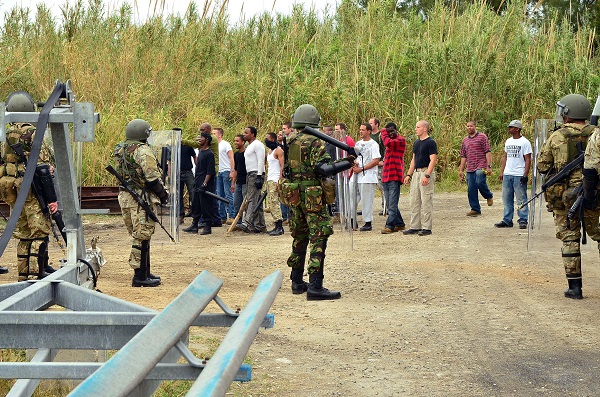 Training Warrant Officer Sergeant Major Fred Oldenburg, who supervised the 'rioters' on the ground, added: "Some people thought it was a bit violent – but if you're going to train, you've got to train hard.
"It also enabled the company and platoon commanders to be tested as well."
Commanding Officer Lt Col. Brian Gonsalves said: "The Regiment has proved it can deal with a range of different challenges and respond appropriately to everything from a peaceful demonstration to having petrol bombs thrown at them.
"I'm confident we will be prepared to the highest standards should we ever be needed to support the civil power."
- Photos by Sgt. Kenneth Byron
Read More About