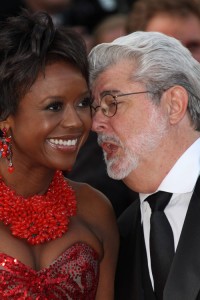 The empire struck back when "Star Wars" creator George Lucas was in Bermuda recently — with the acclaimed filmmaker falling under the spell of "Downton Abbey", the phenomenally successful period drama about a wealthy household's struggle to adapt as the sun slowly sets on the British Empire.
Peter Bradshaw — a columnist for the UK's "Guardian" newspaper — was talking with the director of "American Graffiti" and "Star Wars" along with fellow film journalists Philip Franch and Nick James at a reception hosted by the Queen on Wednesday [Apr. 3]
"Lucas talked animatedly with Philip about 'American Graffiti' for a while but it was a whimsical question from Nick that opened up a new avenue," Mr. Bradshaw reports."Was Lucas a 'Downton Abbey' fan? Was he ever! 'I just watched a boxset of season one with my fiancée in Bermuda,' he told me, adding that Dame Maggie Smith is his favourite."
Mr. Lucas' soon to be bride is DreamWorks animation chairman Mellody Hobson, who he proposed to in January. They are seen together above.
The couple have dated since 2006. This will be her first marriage; Mr. Lucas was married to film editor Marcia Lou Griffin, whom he divorced in 1983.
Debuting on Britain's ITV in 2010 and America's PBS in 2011 "Downton Abbey" is set at a fictional country estate and depicts the lives of the aristocratic Crawley family and their servants in the post-Edwardian era — with the great events in history having an effect on their lives and on the British social hierarchy.
Film and theatrical legend Dame Maggie Smith plays the waspish Violet Crawley, Dowager Countess of Grantham in the show, a part that has won her two Emmy Awards and a Golden Globe.
Dame Maggie Smith in "Downton Abbey"
Producer, screenwriter, director and entrepreneur, Mr. Lucas recently sold his LucasFilm Limited to the Walt Disney Company in a multi-billion dollar deal.
He remains best known as the creator of the space opera franchise "Star Wars" and the archaeologist-adventurer character Indiana Jones. In recent years Mr. Lucas has been considering making a final chapter of the Indiana Jones series set in the Bermuda Triangle.
Mr. Lucas was in the UK to attend a ceremony hosted by the Queen at Windsor Castle to celebrate the British film industry.
Others in attendance included director Christopher Nolan, actor Idris Elba and "Wallander" star Sir Kenneth Branagh, who hosted the event.
Read More About
Category: All, Entertainment, Films/Movies