Britain's Minister for the Overseas Territories Mark Simmonds, Governor George Fergusson, Premier Craig Cannonier and Finance Minister Bob Richards held a press conference this morning [Apr 26] where they discussed how they can work together for the benefit of Bermuda.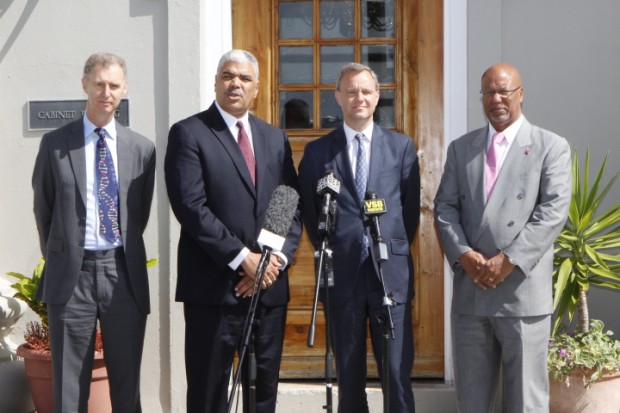 Premier Craig Cannonier said, "We want to assure Bermuda that we continue to look for opportunities as we move forward with our relationship with the UK and our Overseas Territories Minister Simmonds with areas that we can benefit from.
"Those areas like education, where we can find synergies there to help continue to look for opportunities of job creation. In the area of crime where we can work together helping to decrease the crime rate in Bermuda. These are some of the initiatives we have been talking about.
"We have been looking at other areas, like an International Business Summit that we can hold in the UK," said the Premier.
Minister Simmonds said, "Could I first say how pleased I am to be here in Bermuda. We have had this morning an extremely warm, constructive, and positive dialogue about strengthening the already positive ties that exist between Bermuda and the UK.
"We've discussed a whole range of important issues as to how we can work together for the benefit of Bermuda. Both strengthening the economic and trade ties, facilitating stronger links in key areas like education and health, but also making sure that Bermuda retains its' reputation at the forefront of an extremely well regulated financial center.
"We've discussed holding a Bermuda Trade and Investment Conference in the UK, and also to make sure that British businesses realise the investment opportunities that exist here in Bermuda to help drive economic growth, create sustainable jobs, and make sure that those very positive ties that exist between our two countries continue for the long term."
Read More About