A Greys Anatomy and Scandal television viewing party will be held this evening [May 16] at The New Captain's Lounge on Reid Street, with the dual season finale viewing running from 9:30pm – 1:00am. The programmes are two of ABCs top viewed shows and the brainchild of Shonda Rhimes.

The Bermuda Grey's Anatomy/Private Practice online group formed three seasons ago when several friends realized that they were chatting to their hearts content to each other via Facebook while watching the show. Everyone had their own status so people were bouncing around from page to page running multiple conversations. This was eventually streamlined to one status on one persons page and then the group formed.
Most Thursday nights during the season both Greys and Scandal come on back to back and there is marathon chatter among the members comprising of both men and women. "It is respectful but fast with few rules except we try not to chat until commercials," said one of the group members.
"We have fun fighting over the characters as if they belong to us." Marion Dyer, event host says about Grey's Anatomy, "ownership was established several seasons ago but every week we still fight over Dr. Jackson Avery [played by Jesse Williams]."
Along with chatting in the Facebook group, several members tweet as both shows offer live tweeting with the characters. The Scandal tweets and tag lines usually trend by the first commercial.
"I'm really excited about tonight's event and the opportunity to video chat with Scandalholics around the US along with our usually chatting and tweeting – during commercials, that is," said Cindy Smith, one of the event hosts.
Tweet received from Guillermo Diaz who plays Huck on Scandal: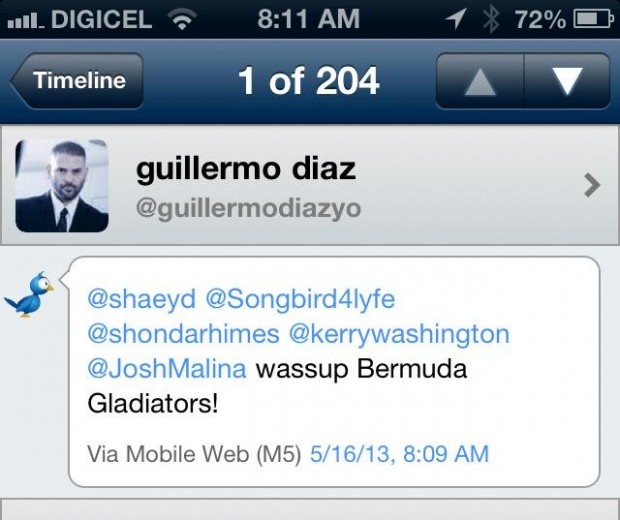 Bermuda's die-hard fans will be converging on The New Captain's Lounge on Reid Street for a first ever dual season finale viewing party from 9:30 – 1:00am. "New viewers are welcomed but we can not be responsible for what happens to the person that tries to catch up on what they have missed or doesn't know about the show," said a group member.
"It's all about experiencing the excitement together in one room," said Shari-Lynn Pringle, Room creator. "Many of us only know each other through communicating on Thursday nights, so this will be a reunion of sorts also."
The idea came about after so many riveting episodes of Grey's Anatomy and Scandal this season. It was felt that it was time to hold Bermuda's First Ever dual season finale viewing party.
Shari-Lynn Pringle and Cindy Smith went to work scouting locations to host the event and Captain's has been very accommodating., they said. Dave Morgan at Captains has created a specialty drink called 'Scandalicious'. There will be light hors d'oeuvres, a cash bar with no cover charge but a donation is welcomed to offset the cost of hosting the event.
"I don't think this is the last event we will have," said Theresa Tannock, a group member, "Shonda Rhimes gets better and better with every season."
Grey's Anatomy is in its 9th season and Scandal is completing its 2nd season, and they air at 10pm and 11pm respectively on ABC.
Read More About
Category: All, Entertainment