The only time most women in Bermuda have a special dance with their Fathers is on their wedding day, however all of that will change on Saturday June 8th when Kings & Queens Production presents the first ever Father Daughter Dance at the Fairmont Hamilton Princess.
A spokesperson said, "This is a great opportunity for fathers to spend some quality time with their daughters and show them how they deserve to be treated on a date. Fathers and daughters will dress up in their best outfits [semi formal attire] and prepare to have a night to remember."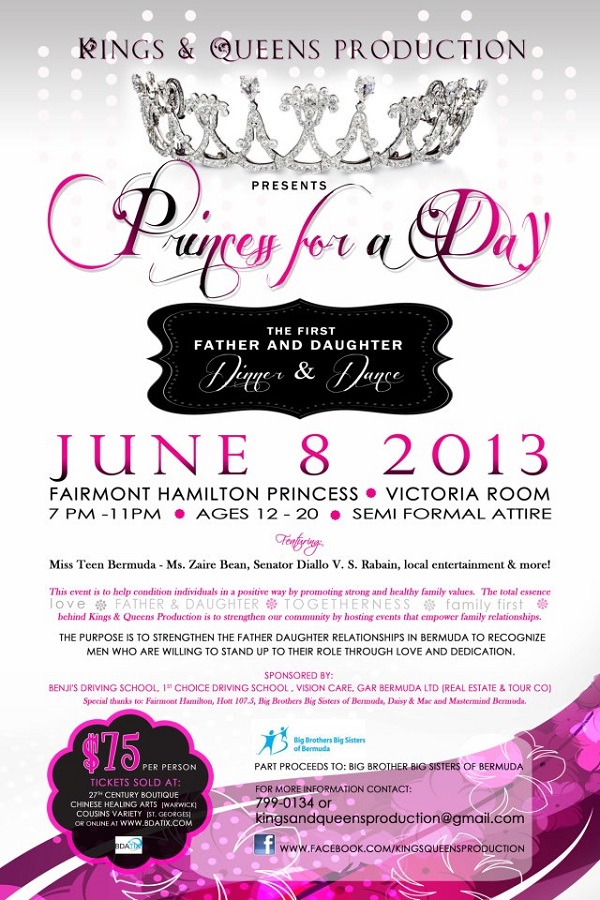 The concept behind "Princess For A Day" is to strengthen father/daughter relationships and to honor fathers who are doing their part.
Upon arrival each young lady will be presented with a tiara and receive a flower from her father. During the evening they will take pictures on the red carpet, be treated to a 3 course meal, and enjoy dancing, games and entertainment.
Guest speakers for the evening are Miss Bermuda Rochelle Minors, Miss Teen Bermuda Ms. Zaire Bean, Senator Diallo Rabain and Mr. Wayne Caines. The MC for the evening is Bermudian Comedian Bootsie and the DJ is Nadanja Bailey.
Father and daughters will be able to bond and have fun together, and there will also be prizes for best dressed father – daughter team and the best dancers.
This takes place the weekend before Father's Day, and the daughters must be between the ages of 12 – 20.
Category: All, Entertainment