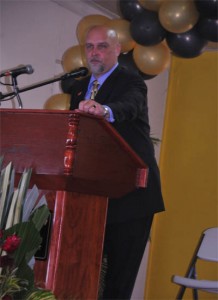 One Bermuda Alliance chairman Thad Hollis [pictured] told an audience in the St. Kitts & Nevis that the outcome of the 2010 by-election to replace former Premier Dr. Ewart Brown convinced members of the former Bermuda Democratic Alliance and the United Bermuda Party they had to merge if there was any realistic prospect of ousting the Progressive Labour Party at a general election.
Mr. Hollis — the special guest speaker at the People's Action Movement [PAM] 48th annual convention – said the two opposition parties split the vote when PLP candidate Marc Bean successfully retained the Warwick South Central Parliamentary seat formerly held by Dr.Brown during his address on Sunday [Apr. 28] at the party's headquarters in Fortlands, St. Kitts.
"We weren't going to be able to win a general election and bring back jobs, restore the economy, bring social and economic equity, build schools for kids, get Bermuda working again; all the things that need to happen," Mr. Hollis was quoted as saying by the St. Kitts & Nevis news outlet SKNVibes. "So they [the BDA and the UBP] started to talk about a merger …
Mr. Hollis said that in September, 2011 the fledgling OBA held a "conference where we elected our leadership in an open forum by ballot. And my leader, the Honourable Craig Cannonier, Premier of Bermuda now, was elected leader.
"Never before in the history of Bermuda had a political party had an open ballot where the members could vote; and we invited the media…transparency," he added.
The chairman talked about the coming together of the parties for "a new concept in politics"  when the One Bermuda Alliance was formed.
"What the One Bermuda Alliance didn't have was just members of the United Bermuda Party and the Bermuda Democratic Alliance," he said. "We had members of the Progressive Labour Party join, we had independents and we had people like me who'd never been officially been in a political party".
"We brought together five distinct groups that had one vision — putting Bermuda first. We shared a vision. Bermuda has to be our priority," he added.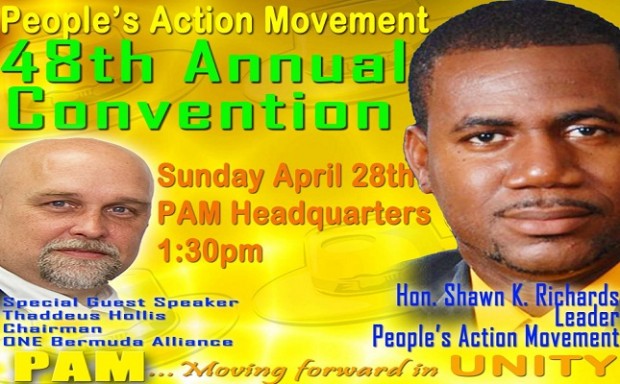 Mr. Hollis said the party was "founded on seven principles", which he outlined as Opportunity, Responsibility, Integrity, Transparency, Fairness, Inclusiveness and Service.
"I'm a Bermudian, I love my island home," he said. "I have salt water in my veins. My family I can trace back to the 1600s. I have no other home. I belong to Bermuda and Bermuda is in me. So when I joined a movement that said we need to put Bermuda first, it was not a choice, it is the way of being."
Mr. Hollis said "we came together of diverse backgrounds, of difficult and different political opinions, and stood together to win the [2012] General Elections."
PAM currently holds two of the eleven seats in the St. Kitts & Nevis National Assembly.
- Photo courtesy of SKNVibes, read the full story here on their website.
Read More About