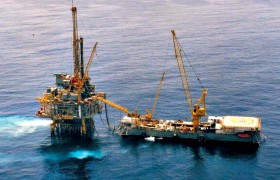 Bermuda-based Seadrill on Tuesday [Apr. 30] completed the previously announced transaction to integrate its tender rig division into Malaysian oil and gas service provider SapuraKencana Petroleum Berhad and the signing of the conditional sale and purchase agreement between the firms.
The agreed upon acquisition price is for an enterprise value of $2.9 billion, which includes cash, SapuraKencana shares, all debt in the tender rig business, and Seadrill's future capital commitments for newbuilds.
The incremental 400.8 million shares received by Seadrill bring the company's equity holding to approximately 12 percent of the outstanding shares of SapuraKencana. At Tuesday's closing share price of 3.18 Malaysian ringgit, Seadrill's total shareholding will have a gross value of approximately $753 million.
In addition, John Fredriksen, chairman of Seadrill Limited, is a nominee to the board of directors of SapuraKencana.
Mr. Fredriksen said in a comment, "We are pleased to have completed this important transaction with our long- term partner, SapuraKencana. We look forward to support the integration of the tender rig fleet in order to facilitate a smooth and orderly transition for the customers. This transaction will free up significant financial flexibility for Seadrill, and the proceeds will as previously stated be used over time to continue to aggressively grow our modern ultra-deepwater and jack-up exposure."
Seadrill is an offshore drilling company domiciled in Bermuda and managed from Norway by Seadrill Management AS. Seadrill has operations in countries that include Angola, Brunei, the Republic of Congo, Indonesia, Malaysia, Nigeria, Norway, Thailand, Brazil and the United Kingdom among others.
The company operates semi-submersibles, jack ups and drillships.
Read More About