A cross-Canada train trip ended with a surprise birthday gift for Bradlyn Deshields and her friends from the island when they arrived in British Columbia and took in a lavish new production of the Broadway musical "Dreamgirls" — because the star of the critically-heralded revival was none other than Bermudian actor Daren Herbert.
Mr. Herbert — who had a supporting role in the 2006 Academy Award-winning movie adaptation of "Dreamgirls" which starred Beyoncé, Jamie Foxx, Eddie Murphy and Jennifer Hudson — plays lead character Curtis Taylor, Jr. in the current Arts Theatre Company production.
"A group of Bermudians were celebrating the 65th birthday of Ms Bradlyn Deshields," Mr. Herbert's wife — former Miss Bermuda Joanne Darrell Herbert – told Bernews. "They did a train tour across Canada and ended up in Vancouver. Daren's show was part of their itinerary — it was purely coincidental."

Bradlyn DeShield's party of Bermudians outside Vancouver's Stanley Industrial Alliance Stage theatre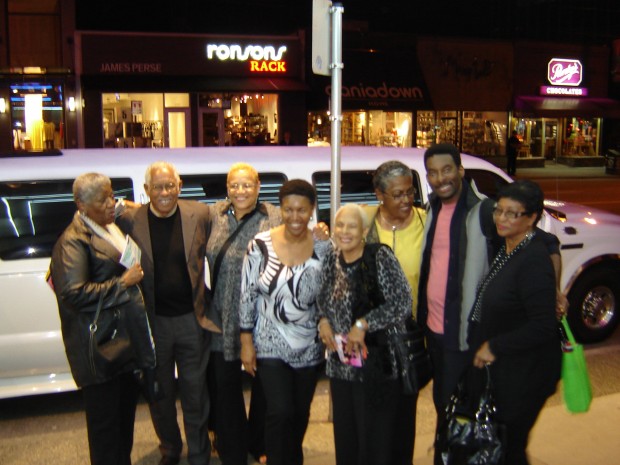 The party of Bermudians quickly realised a fellow Bermudian was treading the boards before them at the Vancouver theatre where "Dreamgirls" is playing until July 7, the Stanley Industrial Alliance Stage.
"A great friend of Daren was part of that trip, Ms Meredith Johnson," continued Ms Darrell Herbert. "There was fabulous applause for him as he took his bows, waving a Bermuda flag!
"After the show he was surrounded by well wishers and requests for autographs and photos. It was hilarious … the Bermudians were certainly proud!"
Also in attendance at the same show was a contingent of Mr. Herbert's British Columbia-based supporters including Bermudians Dale and Erin Hines [pictured below with Ms Darrell Herbert].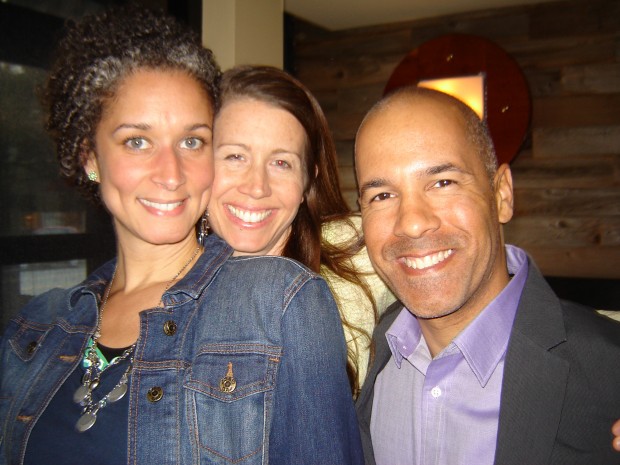 The musical "Dreamgirls" — loosely inspired by the story of Motown founder Berry Gordy Jr. and The Supremes — tells the rags-to-riches tale of 1960s girl group The Dreamettes.
Young, black, and with talent to burn, the hopeful divas Effie, Deena, and Lorrell fantasise about playing the Apollo Theater in New York.
After getting their big break thanks to the machinations of their manager Curtis Williams Jr., The Dreamettes seem unstoppable — until rivalry and betrayal disrupt the group's once harmonious internal dynamisc.
"Daren Herbert is handsome and sexy as … Curtis Taylor Jr.," said one critic. "Herbert's a charmer and when, as Curtis, he turns those big brown eyes on Deena and sings 'You Are My Dream', we almost hope she throws herself into his arms. What woman wouldn't?"
Video trailer for the Vancouver production of "Dreamgirls"
And in the "Province" newspaper, theatre reviewer Jerry Wasserman said: "The story revolves around the ambitions of a character called Curtis Taylor Jr. …
"Played with intense charisma by the excellent Daren Herbert, Curtis wants to remake black music and black performers so they will be attractive enough to white people to cross over onto the pop charts," said one review of the current production. "He knows he has to be ruthless to win the game on the white man's turf. He'll pay the bribes that need to be paid, strictly control his artists and not worry about collateral damage.
"His chosen vehicle is a female trio, The Dreamettes [Aurianna Angelique, Karen Holness and Starr Domingue]. Curtis becomes their manager, has them sing backup behind soul star Jimmy Thunder, then slicks them up and sends them out on their own as The Dreams.
Daren Herbert as the Berry Gordy-inspired Curtis Tayor. in "Dreamgirls"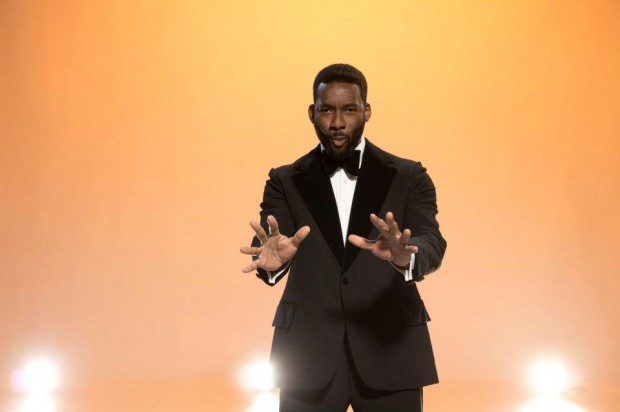 "He replaces their original lead singer, Effie White [Angelique], a big girl with a big voice, with the slimmer, lighter-voiced Deena Jones [Holness], whose career he cultivates at the expense of the group.
This is the story of Diana Ross and The Supremes, though biographical parallels mostly disappear in
the second act."
With music by Henry Krieger and lyrics and book by Tom Eyen, the original production of "Dreamgirls" opened on Broadway in 1981.
The show was was nominated for 13 Tony Awards, including the Tony Award for Best Musical, and won six. "Dreamgirls" closed on August 11, 1985, after 1,521 performances.
Read More About
Category: All, Entertainment, News