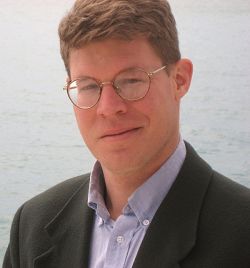 Rochester University's Dr. Michael Jarvis, author of the award-winning local history book "In The Eye Of All Trade", will be giving a lecture entitled, "Bermuda in Microcosm: History and Archaeology at Smith's Island, 1610-2010″ on Thursday [June 27] at the World Heritage Centre in St. George's.
Dr. Jarvis [pictured] has headed a team of archaeologists who have been working on 61-acre Smith's Island since 2010.
The team believes they may have identified the precise location where the "Three Kings Of Bermuda" — Christopher Carter, Edward Waters and Edward Chard — lived between 1610 and 1612.
"I really am looking forward to helping Bermudians learn about and unearth their own past," Dr. Jarvis posted on his blog recently. "An important but often overlooked part of historical archaeology is engaging and involving the public to promote awareness of the fragility of our cultural heritage and to diversify the range of people included in histories beyond white property-owning men who make up the bulk of those documented in surviving records.
"With luck, we will find evidence of enslaved Native Americans, black Bermudian slaves who seasonally worked in the whale house, the three poor English sailors who became the First Bermudians, and the unknown individuals who were forced to stay at the island's quarantine station and those who nursed them in their illness. I can't wait to get started!"
The event gets underway at 6:30 p.m. and space is limited to 60 seats. Reservations are necessary. Please email directortsgf@logic.bm or phone 297-8043 to book seats. The  admission fee is $15 per person. Light refreshments will be served and there will be a cash bar. Parking spaces will be available at Tiger Bay.
Read More About