Kiara Baxter, Jasmin Caines, and Chantae Hollis all received scholarships during the Bermuda Health Foundation's Annual Salute to Service Award Luncheon held on Friday [June 21]. The Luncheon also served to honour Bermudian Dr. Malcolm Brock for his accomplishments in the health care field.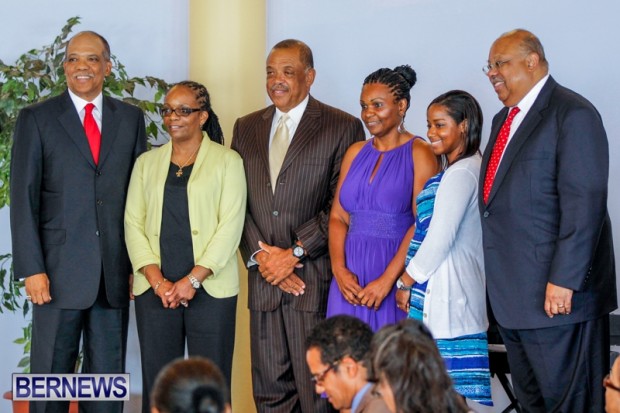 Kiara Baxter
Ms Baxter is a graduate of the Berkeley Institute is just completing her second year of pediatric nursing studies at De Montfort University in Leicester in the United Kingdom. She spent two years at United World College in Costa Rica. During her studies at De Montfort, she has worked with children with special needs, epilepsy and other neurological disorders. Her current placement is within the Emergency Department with a major concentration on Ambulatory Care of children.
Jasmin Caines
Ms Caines graduated from McGill University in 2010 and is now a third year student at Ross University School of Medicine in Dominica. Her dream has always been to become a doctor. It is now her dream to return to Bermuda to work at the King Edward VII Memorial Hospital specializing in internal medicine and cardiology.
Chantae Hollis
Ms Hollis is a 2012 graduate of Bermuda College where she received an award as the Most Outstanding Arts Graduate Award. During this past academic year, she has gained work experience in the field of mental health at both Mid Atlantic Wellness Institute and King Edward VII Memorial Hospital. She intends to study psychiatry at Bangor University, United Kingdom.
Bermuda Health Foundation was founded in ten years ago by brothers Philip Butterfield, Vincent Hollinsid and former Premier Dr. Ewart Brown, along with their friend, the late K. Murray Brown, for the purpose of honouring Bermudians who have provided outstanding public service and providing scholarships for Bermudian students aspiring to careers in the medical field.
Since its inception in 2002, the Bermuda Health Foundation has provided over thirty scholarships to Bermudians of all ages who aspire to work in the medical field..
Read More About