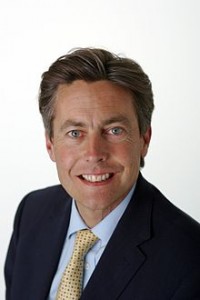 Following the attendance of UK MP Ben Bradshaw in a pair of shorts at a fancy champagne reception for David Miliband last week, the British media has had a field day in dissecting the appropriateness, or lack thereof, of such attire in professional circles, with Bermudian customs leading many to be more accepting of the fashion "faux pas" than may have been expected.
Taking the heat of the matter up a notch is the fact that Bradshaw [pictured] wasn't sporting the typical tailored walking shorts that would rank as an "at the very least" condition on wearing shorts to a professional event; rather, he wore a pair of Lycra cycling shorts, along with an untucked shirt, with black shoes and socks.
Rest assured, this choice of attire did not go unnoticed among British fashion police, leading to a slew of commentary on Twitter and around the web, most of it generally unfavourable to the brave – but potentially misguided – Member of Parliament.
While this type of attire is unheard of in most of the world's business circles, wearing shorts to work is common practice for those coping with the heat of Bermuda and similar climates, creating a rift in expectations depending on where in the world your business takes you.
A piece in Britain's Telegraph first touched on the idea, citing Bermudian dress codes as reason enough to allow shorts in the workplace in downtown London – so long as they're worn with black shoes and long black socks. A follow-up piece published by the BBC takes a similar attitude, though it does caution against taking the "shorts at work" plunge if you don't feel it will suit your sense of style.
"In Bermuda, it is customary to wear long socks with shorts if they are to be worn as business attire. Perhaps we need not go that far. But if you are going to wear shorts, chaps, do it with a bit of style," said the Telegraph.
Read More About
Category: All, Style & Beauty