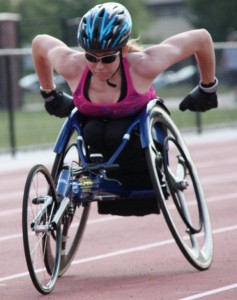 Jessica Lewis — Bermuda's top para-sprinter — is set to represent the island at the 2013 IPC Athletics World Championships next week in France.
With a recent history of strong performances in international competition, Lewis will put her skills to the test as the island's sole track and field athlete in France.
As she wraps up a long tour of events in Canada and Europe, the inspiring athlete took the time to update Bernews on her recent travels and expectations in representing Bermuda at the IPC event.
"I have competed in Arizona, Switzerland, Moncton, New Brunswick, Ottawa, Kingston, and Mississauga, Ontario, and Sherbrooke, Quebec, and I leave Canada next Tuesday, July 16th, for the IPC World Athletics Championships in Lyon, France," she said.
"Our track racing season is short, but intense! I just competed on the weekend in Ottawa and got a new personal best time in the 100m race of 18:31 seconds and my previous best time was 18:51 seconds.
"I will be competing in the 100m, 200m and 400m races at the World Championships. I'm really looking forward to representing Bermuda at the championships. I have worked really hard leading up to this and will leave it all out on the track!"
Scheduled to run from July 19 through July 28, 2013, the IPC Athletics World Championships will be held in Lyon, France, drawing more than 1,100 athletes from 99 countries around the world.
Read More About