Over 60 students, parents and BFIS alumni, trustees and committee members attended the Bermuda Foundation For Insurance [BFIS] Studies 2013 Scholarship Awards Reception on Monday evening [July 22] where 11 students were awarded with BFIS scholarships ranging from $10,000 to $30,000 per year, representing a total commitment to their educational needs of $370,000.
Pictured below: Dominick Wright [accounting/U. of Pennsylvania], Stephen Jones [Scholarship Committee], James Gregory [finance/Babson Col.], Travis Trott [accounting/ U. of Western England], Matthew Hogan [economics/Durham], Chelsea Smith [business/Western Ontario], Michael Fisher [BFIS Chairman], Latonia Fray [economics/Drexel], Denzel Simons [economics/Florida Int.], Yuki Sun [actuarial/CASS London], Mareiko Paul [finance/St. John's], Iman Smith [business/Coventry], Aaron Phillips [business/Manchester Met.] and Scholarship Committee members, Shelle Hendrickson, Rajesh Pachai and Catherine Lapsley, BFIS Executive Director. [Missing:Scholarship Committee members, Dr. Duranda Green and Jonathan Ball]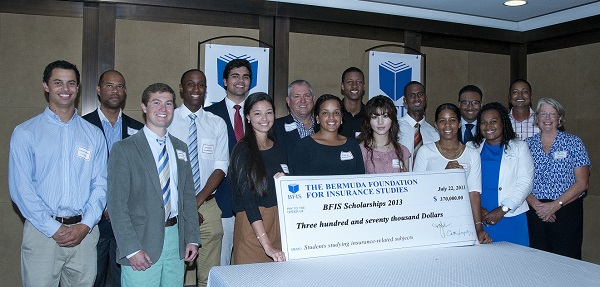 At the Awards Presentation Reception, sponsored by Markel Corporation and held at Markel House, BFIS Chairman Michael Fisher said that "The Foundation was created with the purpose of providing financial support and guidance for Bermudian students,so that they might have the opportunity to obtain the appropriate education and training in order to pursue an insurance-related career. A large component of this is achieved through annually awarding scholarships to outstanding students pursuing studies relevant to the insurance industry."
He went on to say that after short-listing half of the 112 applications the Scholarship Committee interviewed 30 students of outstanding ability, not only extremely sound academically, but also well rounded, excelling in their individual pastimes of sports, music and philanthropic endeavours. He also noted that the majority of the Scholarship Committee are BFIS alumni.
Since 1996, $4.6 million has been awarded to 129 students focused on careers in Bermuda's insurance industry. 93 students have graduated, with almost all working in insurance or insurance related industries. The 11 new Scholars will join 14 continuing BFIS Scholars and 6 former BFIS Scholars studying for their degrees, bringing the total current BFIS scholarship commitments to $638,000.
Read More About