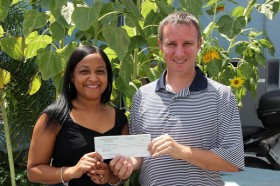 Bermuda CableVision today [July 25] announces that it has secured a $1,000 grant for Big Brothers Big Sisters of Bermuda [BBBS] from the Caribbean Cable and Telecommunications Association [CCTA].
This is the eighth consecutive year that Bermuda CableVision has nominated and successfully secured a CCTA award for the local mentoring charity.
The CCTA Community Charities Programme has been serving worthwhile organisations throughout the region for 20 years and to date has awarded $281,000 to good causes identified by its membership of cable operators. The programme originally awarded only ten grants per year, but interest in the programme has grown substantially and this year the CCTA's board of directors voted unanimously to award $1,000 grants to all 14 of the 2013 deserving nominees.
Edward Cherwinski, Chief Financial Officer at Bermuda CableVision, presented a cheque to Patrina O'Connor-Paynter, Fund Development/ Marketing Communications Director at BBBS Bermuda.
Mr. Cherwinski said, "Bermuda CableVision is excited to support local charities, especially with the financial challenges that our community continues to face. We nominated BBBS again this year as their members, through one-to-one mentoring, provided invaluable time to children in our community that are facing adversity. We thank the CCTA for their continued generosity."
Mrs. O'Connor-Paynter says, "We thank Bermuda CableVision and the CCTA for their continuous support. Today's tough economic conditions make it difficult for BBBS, as well as other charities throughout the island, to meet the needs of our community. This continuous support of our program helps us to continue making a difference in the lives of the children we serve. "
Formed in 1983, the CCTA represents cable and telecommunications providers throughout the Caribbean, and the programmers, software and hardware suppliers that support their operations.
Read More About
Category: All