ChewSLAM Teen Poetry & Spokenword Club will be featured in a week of fundraising, starting Wednesday [July 24] from 12pm to 2pm at the feet of the Theatre Boycott Statue in Wesley Park.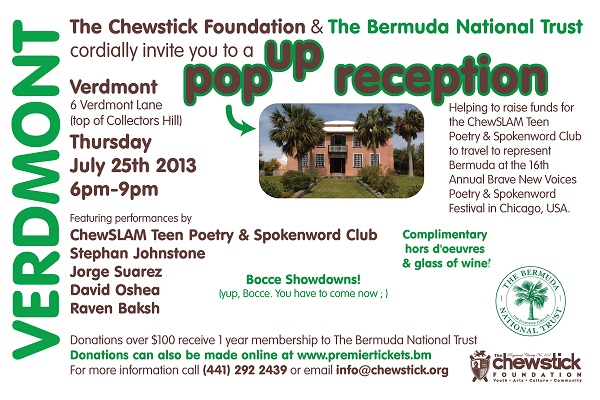 A spokesperson said,"ChewSLAM will be reciting poetry alongside other guest performers while also selling tickets for their upcoming showcase and asking the public to make donations toward their trip. They're eager to meet people from across the community, who might be curious about what ChewSLAM Teen Poetry & Spokenword Club means to them and how they can help to encourage the voices of a new generation, to thrive.
"Thursday will be a free reception at The Bermuda National Trust's Verdmont Property [6 Verdmont Lane, at the top of Collector's Hill] from 6pm-9pm which will feature performances by ChewSLAM alongside international storyteller David O'shea, singer/songwriter Raven and local legend Stephan Johnstone and more, in a relaxed atmosphere in a historically significant idyllic garden setting, bolstered with cocktails, music, good conversation, and even Chewstick's signature Bocce! Friends of The Chewstick Foundation will be present at the reception and will happily address questions about the program and accept any contributions made.
"The Thursday reception is the second installment of a partnership with the Bermuda National Trust designed to introduce more people to these landmark properties and to bring everyone together in the celebration of Bermuda's unique culture. If you would like an invitation for yourself or your corporate team please email info@chewstick.org."
On Friday [July 26] ChewSLAM will perform alongside other Chewstick family at the Summer Splash local showcase in Par La Ville parking lot, where attendees will be treated to a collage of original song, poetry, storytelling and rap.
The week will culminate in a feature performance at the Bermuda Musical & Dramatic Society's Daylesford Theatre on Sunday [July 28] with a Poetry Showcase where Bermuda will have the chance to see and support the young people involved in ChewSLAM, as they share the stage with quintessential Bermudian storyteller Ruth Thomas, singer/songwriter Gavin "Djata" Smith, Bermuda Library Poets' Nick Hutchings, program facilitators Stephan Johnstone and Yesha Townsend, and a surprise special international guest.
Tickets for this event are $30 general admission, $15 for students, and $100 for patrons, which will include admission to Chewstick's legendary open-mic night after. Tickets are available online here or by contacting The Chewstick Foundation.
A spokesperson said,"ChewSLAM Teen Poetry & Spokenword Club is targeting to raise fifteen thousand dollars to enable them the opportunity to connect with a global community of young poets, strengthen their voices, foster connections and to express and understand each other in an environment of respect, freedom, love, and truth.
"The kids and facilitators have been working feverishly to reach Chicago, having conducted workshops and performances with proceeds dedicated to the program, completing pledge sheets, taking part in community performances, producing events and now planning an extravaganza of entertainment for the enjoyment and upliftment of their community. All are encouraged to take notice of these and additional events and to contribute if possible as it is important to support the positive endeavours of our young people."
Donations toward ChewSLAM's efforts can be made at the Chewstick Foundation Headquarters off Court St. or on ptix.bm.
Read More About
Category: All, Entertainment, Music