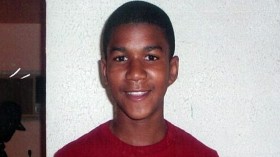 The jury in the trial of George Zimmerman — who fatally shot an unarmed teenager — returned a not guilty verdict this evening [July 13].
According to CNN, the all female jury basically had three choices: to find Zimmerman guilty of second-degree murder; to find him guilty of the lesser charge of manslaughter; or to find him not guilty.
On February 26, 2012, Trayvon Martin was walking back to his father's fiancee's house from a convenience store in Florida, where he'd bought Skittles and a drink. Zimmerman, a neighborhood watch volunteer, spotted him and called police saying he thought the teenager was "suspicious."
A 911 dispatcher told Zimmerman that officers were on the way and not to follow the allegedly suspicious person. However Zimmerman got out of his car and ended up shooting the 17-year-old, who sustained fatal wounds. Zimmerman has been accused of racially profiling the African-American teenager, a claim the defense denied.
The acquittal means Zimmerman is a free man and will be able to walk out of the courthouse, however one of his attorneys said that Zimmerman is a "marked man and lives in fear for his life."
Many Bermudians have been following the trial, and within minutes of the verdict many locals began to flood social media expressing their outrage at Zimmerman walking free.
Read More About
Category: All, Court Reports, Crime, News