[Updated with videos] A press conference was held today [July 24] at Nonsuch Island to provide an overview of the installation of solar panels on the island nature reserve, which serve to to run its buildings, small lab, cottage, security cameras and the recently announced 'Cahow Cam'.
Minister of Environment and Planning Sylvan Richards said, "One of the key projects for the restoration of Nonsuch Island is the establishment of a sustainable and reliable power supply to run its buildings, small lab, cottage, security cameras and the recently announced Cahow Cams.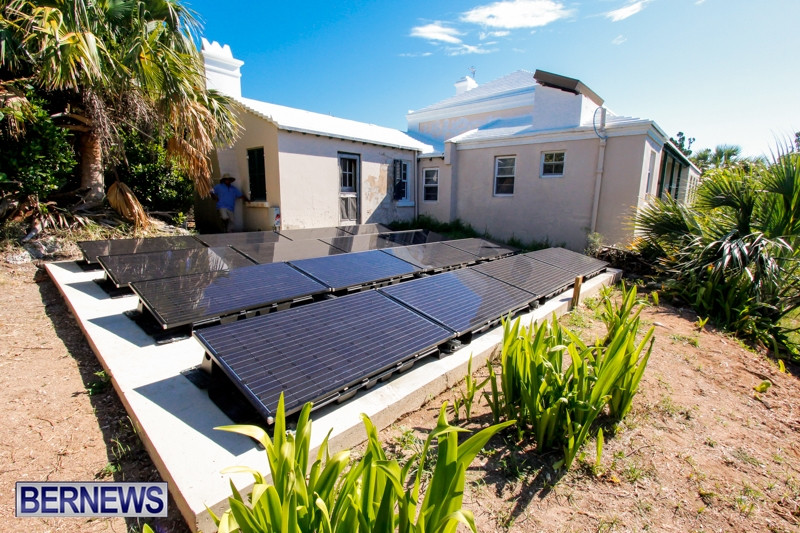 "Building anything on an island is never easy and Nonsuch is certainly no exception," continued Minister Richards.
"I am told that the last time Nonsuch had power was in the middle of 2003 when a new solar power array was installed. Unfortunately within weeks Hurricane Fabian had blown through and destroyed it…and for the last 10 years Nonsuch has had to rely on noisy portable generators to power any activity in the reserve.
"However, today I am extremely proud to announce that Nonsuch 'has lights.'
"Donated by the Ascendant Group and installed by a truly dedicated team from Ascendant and the Department of Conservation Services a new, very energy efficient, solar power system has been installed."
Slideshow showing 40+ photos of various aspects of today's presentation:
Minister Richards continued, "16 new solar panels on a custom built plinth have been fitted in a little-used corner of the lawn by the main cottage of Nonsuch."
"Learning from previous experience the panels can easily be unbolted and stored away in case of hurricanes. The entire array has a very low profile and is designed to allow the wind to flow over it.
"Additionally, the solar panel installation has no negative visual impact on Nonsuch or its wildlife. In fact it will become an important component of all tours of the reserve…showcasing a sustainable and clean energy supply," said the Minister.
8 week Cahow Cam video update from Look Bermuda:
Michael Daniel, Senior VP of the Ascendant Group, said: "Ascendant Group is pleased to continue our 10-year commitment to the long-term Nonsuch Island conservation work; our commitment started in 2010, and we have promised $50,000 annually in addition to volunteer support.
"We are also delighted to provide a new solar PV installation to provide Nonsuch Island with electricity – including powering the Cahow Cams, so that they can run continually; our goal with this project, as with all energy is to provide a secure, reliable, sustainable supply.
"We are delighted that the new solar installation will provide power for the residence and the classrooms, benefitting the scientists and students who come to Nonsuch – as well as those who view the Cahow Cams online, whether they are in Bermuda or elsewhere in the world," said Mr. Daniel.
Video of Minister of Environment and Planning Sylvan Richards at today's press conference:
Video of Michael Daniel, Senior VP of the Ascendant Group at today's press conference:
Read More About
Category: All, Environment, Environment, News, Photos