Over 60 lionfish were caught at the 2013 Groundswell Lionfish Tournament held at BIOS this past weekend, with executive chef Chris Malpas cooking up different dishes using the invasive pest.
There has been an ongoing campaign to control lionfish in Bermuda's waters, with a number of entities involved in the effort. Lionfish are said to be indiscriminate predators, preying on species which are commercially, recreationally and ecologically important.
It is believed they were originally introduced into the Atlantic in the late 1980s by local aquariums or fish hobbyists in Florida, and lionfish have now spread throughout the Caribbean, South America and as far north as Massachusetts and Bermuda.
Screenshot from the video showing a diver spearing a lionfish: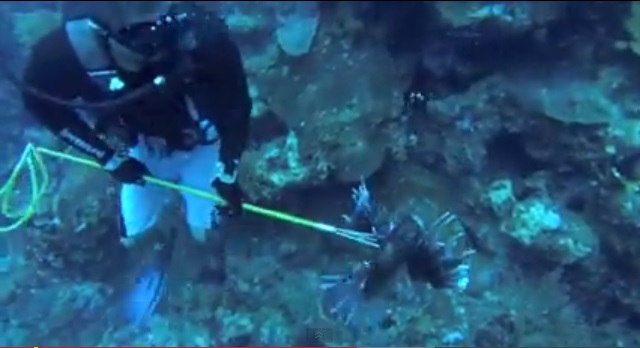 The Darwin Plus fund of the UK Department of Environment, Food and Rural Affairs recently allocated approximately $265,000 to the Bermuda Lionfish Task Force, as part of the UK Government's support for conserving biodiversity and natural ecosystems in the overseas territories.
Minister of Environment and Planning Sylvan Richards has said the first lionfish was found in Bermuda in 2000, and divers have noticed ever increasing numbers on our reefs since then.
"This rapid invasion of the lionfish across the region is of great concern for many reasons. Lionfish are voracious predators that consume large numbers of small fish, yet there are no known predators of the lionfish themselves, so their population continues to grow unchecked," said Minister Richards.
"Lionfish are already affecting local fish populations, and this could lead to further impacts on Bermuda's coral reefs and other marine habitats. With 18 venomous spines in their fins, lionfish also pose a risk to people who might encounter them during fishing, diving or snorkeling activities."
Video courtesy of the Ocean Support Foundation:
Read More About
Category: All, Environment, News, Videos