[Updated with videos] Over 100 people have turned out for the vigil for Rudy Smith, which is just getting underway this evening [July 24] at the Evening Light Church Parking Lot on Parsons Road.
People are continuing to arrive and both political parties are represented, with PLP MP Michael Weeks and OBA MP Glen Smith in attendance. The two MPs are pictured below with Mr. Smith's mother Madeline Rampersad.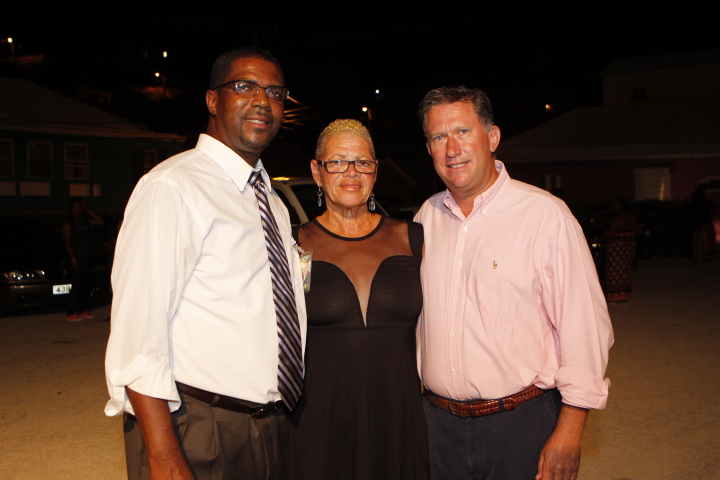 Hosted by Colford's Family Against Violence and the family of Rudy Smith, the date was chosen as it marks Mr Smith's birthday.
Mr Smith disappeared a year ago, and the police have officially classified his disappearance as a murder.
A few photos of the vigil are below:
He was last seen on 9 July 2012, and the police located Mr Smith's motorbike in the waters in front of Grace Church on North Shore on 16 July 2012.
The case remains open, and anyone with information is urged to contact the Serious Crime Unit in confidence at 247-1185 or alternatively to call the confidential & anonymous Crime Stoppers hotline on 800-8477.
Update: By the end of the night far more than 100 people had arrived. Rev. Maria Seaman gave the opening prayer, and bipartisan support was shown for the event, with PLP and OBA MPs standing together in support of the Smith family.
MP Michael Weeks referenced losing his own son, and said that the Smith family will always remain in his thoughts and prayers, while OBA MP Glen Smith said that he had the honour of meeting Rudy Smith while he was out on the campaign trail.
Mr. Smith's mother Madeline Rampersad said she really appreciated everyone coming out to the vigil, and called for anyone who may know something to come forward.
Ralph Burrows — a good friend of Mr Smith's  – spoke at the vigil and referenced his own shooting, which left him paralyzed. Mr Burrows said that Mr Smith used to come to the hospital and take him out, and said he really misses his friend. He called for anyone who knows anything to speak up.
PLP MP Michael Weeks, OBA MP Glen Smith & Mr. Smith's mother Madeline Rampersad:
Ralph Burrows, a good friend of Mr Smith's:
Cleveland Simmons:
MP Michael Weeks:
Rev Maria Seaman:
Read More About